Friday, August 14, 2015
'Tango Lovers' Comes to Holloway Hall Stage Tuesday, September 29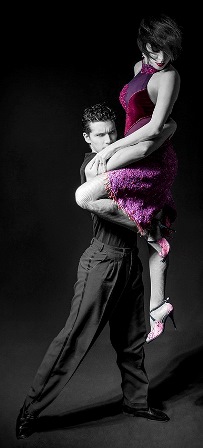 SALISBURY, MD---Salisbury University's 2015 Hispanic Heritage Month Festival continues with a dance performance by Tango Lovers 7 p.m. Tuesday, September 29, in Holloway Hall Auditorium.

The group achieves harmony between tango salon and tango show styles, proposing a different perspective of the genre that shows its evolution over time. It won the 2015 New York Latin ACE Award for Best Musical.

Tango Lovers mixes wardrobe, dance and songs to give the audience a taste of the rhythm of Buenos Aires during the first half of the show. In the second, it offers a modern view of the dance, inspired by the vortex of big cities and relationships among people, while displaying avant-garde aesthetics.

Sponsored by the Cultural Affairs Office and World Artists Experiences, tickets are required for attendance. The public is invited. Free tickets for students, faculty and staff are available at the Guerrieri University Center Information Desk beginning Wednesday, September 2. Free tickets are available to the general public beginning Thursday, September 10. The limit is two per person.

SU Dining Services' annual Hispanic Heritage Dinner precedes the concert, from 4:30-7:30 p.m. in the Commons. The menu includes beef empanadas, margarita chicken wings, rice and beans, green beans with garlic and tomato, Mexican corn cakes, tres leches cake, key lime pie, strawberry margarita squares, churros cheesecake and mock sangria punch.

Part of SU's International Dinner Series, cost is $12, $7.28 for children age 5 and under.

For more information call 410-543-6271 or visit the SU website at www.salisbury.edu.