Friday, September 4, 2009
Syrian Ambassador Moustapha Speaks at SU September 15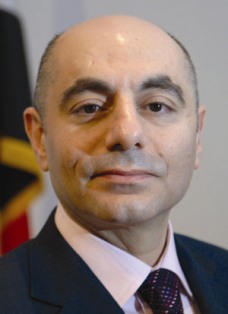 SALISBURY, MD---His Excellency Dr. Imad Moustapha, Syrian ambassador to the United States, helped draft reform strategies for his country's ministries of culture, education and higher education, and consulted with several international organizations on science and technology policies in the Middle East.
On Tuesday, September 15, Moustapha inaugurates Salisbury University's Ambassador Lecture Series, speaking at 7 p.m. in Holloway Hall Auditorium.
Prior to his post as ambassador, Moustapha was dean of the faculty of information technology at the University of Damascus and secretary general of the Arab School for Science and Technology. He also co-founded the Network of Syrian Scientists, Technologists and Innovators Abroad (NOSSTIA).
The ambassador is a prolific writer with more than 200 articles in magazines and newspapers including The Washington Post, Newsweek and National Geographic. He has authored, co-authored and edited several books in English and Arabic, including The Echoes of Orpheus and Creativity Out From the Windows of Hell. He is the co-author of the United Nations-sponsored Human Development Report in the Arab World. He also writes about his interests on his Web log: http://imad_moustapha.blogs.com/imad_moustapha_the_blog.
Sponsored by the Office of Cultural Affairs and World Artists Experiences, Inc., admission is free, but tickets are required. Tickets for are available at the Information Desk of the Guerrieri University Center with a limit of two per person for community members, four per person with SU ID.
Other speakers in the series include His Excellency Ambassador Sameh Shoukry of Egypt in late September or early October (date TBD, tickets available Tuesday, September 15) and Her Excellency Ambassador Hunaina Sultan Al Mughairy of Oman on Wednesday, November 4 (tickets available Thursday, October 15). All talks take place at 7 p.m. in Holloway Hall Auditorium.
"The upcoming visits from the ambassadors of Syria, Egypt and Oman represent an extraordinary opportunity for the SU family, as well as for the Salisbury community at large, to gain better knowledge of this vital region of the world," said Dr. Len Robinson, chair of SU's Political Science Department. "These types of events are invaluable tools for bridging cultural gaps and for helping us in Salisbury achieve a richer understanding of the aspirations and realities of life for people in the Arab world."
For more information call 410-543-6271 or visit the SU Web site at www.salisbury.edu.