Monday, April 8, 2013
Summer Center for the Arts Auditions Set Apr. 20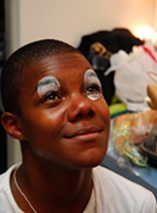 SALISBURY, MD---Some 120 talented middle and high school students from across the state converge on Salisbury University's campus for Maryland Summer Center for the Fine and Performing Arts July 7-20.
Applications are now being accepted for the 2013 program, providing youth the opportunity to study a wide range of visual, musical and theatrical arts.
The two-week residential program for students entering grades seven through 12 offers classes in orchestra, musical theatre performance, acting, digital filmmaking, creative writing and visual arts including drawing, painting, glass making, silk screening and printmaking.
Auditions are held off campus at 9 a.m. and 1 p.m., Saturday, April 13, at Franklin Middle School in Reisterstown, MD. Auditions are also held at SU at 9 a.m. and 1 p.m. Saturday, April 20, in the lobby of Fulton Hall.
In addition to five to six hours of class each day, students live and work in small groups to develop problem solving, interpersonal and community building skills. Field trips, workshops and performances by guest artists enhance the learning experience. Students experience a diversity of activities and teachers from gospel music to Arabic culture, and local exposure to regional and international world views.
Tuition is $1,200 and includes housing, meals, instruction, field trips, evening activities, visiting artists, master classes, recreation and all materials. Financial assistance, including scholarships, is available, supported in part by the Jack Kent Cooke Foundation.
The Summer Center is sponsored by individual donors and Salisbury University, in association with the Maryland State Department of Education.
To set up an audition time or for more information, contact Robert Smith at 410-548-4777, ext. 2, or msca@salisbury.edu, or visit the SU Summer Center Web site at www.salisbury.edu/msca.