Friday, May 12, 2017
Students Rate SU Dining Services Among 'Best College Food in America'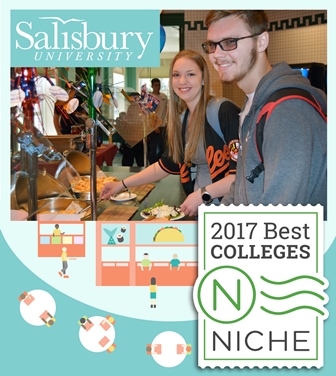 SALISBURY, MD---Salisbury University Dining Services serves thousands of meals each day — and students like what's on their plates.

Students rated SU as having some of the "Best College Food in America," according to a recent survey by Niche.com. SU Dining Services was rated among the top 10 percent in the nation — and No. 1 in the University System of Maryland.

"Students have seen a lot of changes in Dining Services in the past year, with upgrades in the Commons, the new Hungry Minds Express in the Patricia R. Guerrieri Academic Commons and the introduction of Chick-fil-A on campus," said Owen Rosten, University Dining Services director. "As we grow and change to better serve members of the campus community, it's good to know we have their seal of approval when it comes to continuing quality, as well."

Factors in the ranking included not only student surveys, but average meal plan cost. Joining SU in the top 10 percent were institutions were Princeton and Yale universities, and the Culinary Institute of America, among others.



To view the full list visit https://www.niche.com/colleges/rankings/best-college-food.

For more information call 410-543-6030 or visit the SU website at www.salisbury.edu.