Thursday, April 12, 2012
Student Works Showcased at Gallery 303 April 12-23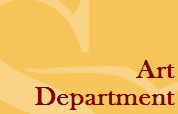 SALISBURY, MD---Gallery 303 (the Salisbury University Student Art Center, 303 W. College Ave.) showcases the works of three SU student artists during the exhibit "Expression and Interpretation" April 12-23.
An opening reception is 4-6 p.m. Thursday, April 12.
The students, Leah Lewman, Brittany Wertz and Alexandra Myers, are part of the Advanced Painting Program taught by SU Art Department faculty Jinchul Kim. They present their work in a mixed-media show of paintings and sculpture, intermixing the styles of contemporary realism and abstraction.
Lewman is a junior majoring in art in the painting and art history tracks. Her work is representational, but her expression through her paintings is inspired by the power and intensity in human relationships. Emotional reaction to these kinds of correspondences is the main fuel for the creation of her works. Each painting depicts a relatively specific tone of interaction between two people: "I want the viewer to see these images and feel the pain – or the love, or the uncertainty, or whatever else it may be – that those two people are feeling for each other," she said. "We all have connections to other people, of all different natures, and I want the paintings to be something people can really relate to."
Wertz is a senior art major in the sculpture track. She paints imagery that stems from memory and experience. Her creative process is a way of expressing her own thoughts and interpretations of the world around her by means of her own personal history. Since memory and experience are entirely unique to the individual, she has created a world that the viewer can put themselves into: "It's not something just for me to understand; I want it to represent something unique to every person who sees it," she said. As a result, her work often has an evocative and nostalgic quality that keeps the viewer enveloped in another world.
Myers also is a senior, majoring in art on the two-dimensional track. Her organic, abstract paintings elicit a magnetic, mesmerized feeling in the viewer. She uses an extremely involved process of painting, mainly inspired by forms and patterns found in nature. "The physical act of creating a design is a freeing, mindless activity, where the design that I am creating pulls me in and I am completely immersed into my own world, where I become almost hypnotized by my own creation," she said. These paintings seem to have a similar effect on the spectator as they do on the artist – the viewer is pulled into and lost in it, as their eye wanders through and through, and they are able to experience the work for themselves and interpret it as they please.
Paintings from all three artists focus on the connection between the expressive freedom that comes with the act of painting, and the interpretive qualities that that freedom then offers the viewer.
Admission is free and the public is invited. For more information call 410-543-6030 or visit the SU Web site at www.salisbury.edu.