Tuesday, April 23, 2013
Student Entrepreneurs Earn Nearly $25K in Prizes in Perdue Competitions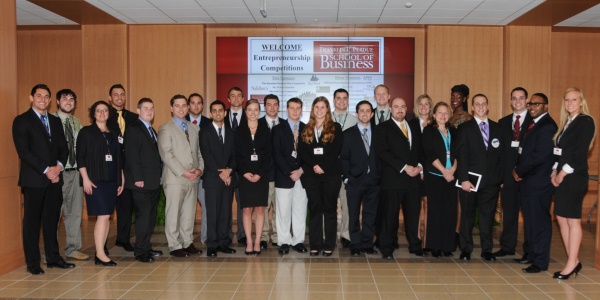 SALISBURY, MD---Salisbury University senior Anthony Zangara and his business partner Nicholas Neuman opened their first Quikshakes location in a Y in Abingdon, MD, in January.
Providing all-natural smoothies and shakes, and education about nutrients, the team topped $1,600 in sales on its first day and is on pace to hit $140,000 in sales in the first year. They already are looking to add two more locations: a Y in Ellicott City and a YMCA in Elkton.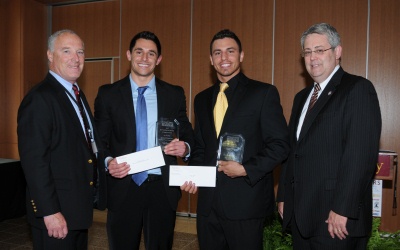 Their business plan for expansion, which will create new jobs in Maryland with multiple shops and additional employees, so impressed judges of the Franklin P. Perdue School of Business' 2013 Entrepreneurship Competitions, the duo walked away with $14,300 in prize money to support their growth.
The Bel Air natives did not invite any friends and family to make the drive to Salisbury for the University's revamped contest because, as they said, "we really didn't think we'd make it that far." They were wrong.
The three-part, day-long event started with a new "Invest in My Idea" poster session that took over the first floor of Perdue Hall. Some 30 participants visually shared their business ideas with judges, fellow students, faculty members and other spectators who mingled through the exhibit areas over the course of two hours. The top 15 earned $300 each and a spot in the new Gull Cage, a "shark tank" competition that allowed them to deliver one-minute verbal pitches to judges, followed by four minutes of Q&A.
For the Gull Cage, first place and $4,000 went to Quikshakes. Second place and $3,000 went to Bounce, a mobile app connecting nightlife providers with consumers. The app was created by junior Nicholas Simpson, a business management major from Ellicott City, and his business partner, Ryan Nuzum, a West Virginia University graduate. Third place and $2,000 went to Chesapeake Bioheat, an alternative home heating solution developed by senior Richard Baldwin, a business management major from Berlin, and junior Lori Defnet, an accounting and information systems major from Poolesville. Fourth place and $1,000 went to FedXmas, a Christmas tree delivery service imagined by sophomore Brendan Guihen, a communication arts major from Silver Spring.

All four teams also moved on to the Bernstein Achievement Award for Excellence, a business plan competition, which gave them the chance to present full details to judges that afternoon. Zangara, a communication arts major and marketing minor, and Neuman, a recent Towson University graduate, ultimately earned this year's increased top prize of $10,000.

"This is really putting us six months ahead of schedule of where we want to be," the friends concurred. Both have worked or worked out in the Y where they launched their shop.

"This marked the 26th year of the Bernstein Award, which has been supported over the years by local entrepreneur and SU alumnus Richard Bernstein," said William Burke, the Perdue School's Entrepreneurship Competition director. "Thanks to many additional sponsors, we were able to expand the competition to provide more students with creative opportunities to develop, pitch and hopefully build on their business ideas. Entrepreneurship and innovation are essential to our economic growth."

The competition is open to SU graduate and undergraduate students across all majors who develop original, well-researched and potentially successful proposals for a business startup or for the transformation of an existing business.
In addition to the four finalists, other participants who made it into the Gull Cage were: Ryan Atkin and Christopher Ward for Salisbury Smoothie Shop; Michael Barnas, Omar Ejaz, Henry Hunt and Joel Kieper for Tri-Dimension, a 3-D printing service; Ryan Baroody and Adam James for Baroody Consulting, a firm specializing in decision-making; Krista Close for the Building Hope, an affordable renovation firm;
Oghenerume Jessa for Fashionable, Fit & Trendy, a customized clothing shop; Sam Jones for the Smoking Aces Hookah Bar & Lounge; Daniel Lader for Ground Up, an organic burger restaurant; Rose Macgregor for Web Works Professional, a web/graphic design and analytics service; Jennifer Neeley and Heather Morris for L.I.F.E. Card, high tech identification cards; Jason Rogewitz and Kevin Lerer for UrBowl: Gourmet Pasta & Salad; and Jeffrey Smith and Allison Paliska for The Waffle Stop, a gourmet food truck.
The Gull Cage was sponsored by Warren Citrin, co-founder of Solipsys, Gloto and, currently, Redox Power Systems.
The poster competition was funded by Layton's Chance Vineyard and Winery, Maryland Capital Enterprises, TEDCO, Affiliated Power Purchasers International, Bay Bank, CFS Retirement and Tax Solutions, Eastern Shore Entrepreneurship Center, Strategic Wealth Management, Mariner Finance and Western Pest Services.
Raffles for competition participants, valued at up to $600, also were provided by A.I.R. Lawn Care, Burley Oak Brewing Company, J.L. Wilson, Layton's Chance, Rommel's ACE and WBOC-TV.
"We had outstanding participation from members of our local and regional business community who volunteered their time to judge the three competitions," Burke added.
To learn more about sponsorship opportunities and participating in the future, visit the Entrepreneurship Competition Web site at www.salisbury.edu/perdue/EntrepreneurshipCompetitions.
Pictured (top) are all competition participants. Pictured (middle left, from left) are Burke, Zangara, Neuman and Perdue School Dean Bob Wood. Pictured (middle right, from left) are Burke, Baldwin, Defnet, Guihen, Simpson, Neuman and Zangara. Pictured (from left) are Neeley and Morris, and Close. Pictured (bottom) are Citrin and student Anton Ivanenko.
For more information, call 410-543-6030.