Wednesday, April 1, 2009
State Treasurer Nancy K. Kopp Visits Campus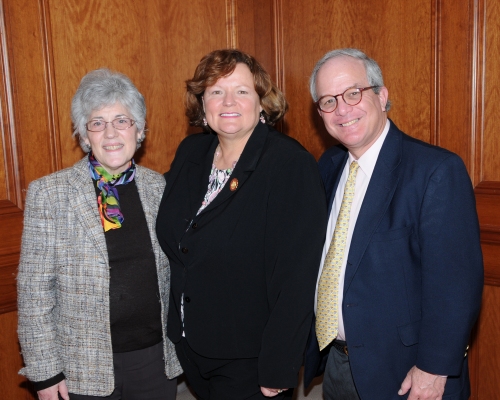 Pictured (L-R) is Kopp with Dudley-Eshbach and Deputy Treasurer for External Affairs Howard Freedlander.

SALISBURY, MD---In her first visit to Salisbury University in recent years, Maryland State Treasurer Nancy K. Kopp met with administrators and students, and toured the campus with President Janet Dudley-Eshbach.

"I've been personally, as a member of the legislature, involved with higher education for about 30 years and a great fan of Salisbury University," Kopp said. "I try to come back when I can just to see all the progress, meet the students and meet the faculty. So much has changed in 30 years, it's wonderful."

Student Government Association President Pat Gotham said: "She asked us why we chose Salisbury University and what our future aspirations included. She also was very excited about the Big Event. She liked that students had taken a large role in helping town-gown relations. That of course made me very proud of the work the SGA has been doing."

"I believe, as treasurer, that the citizens of the state have a great investment in the university, in the students and in our future," Kopp said. "So I see the university not only as a great educational institution but a driver of economic development for the state and that's why I like get a feeling for how things are going."

Kopp's tour included the new Teacher Education and Technology Center and seeing projections of future development such as the new home of the Franklin P. Perdue School of Business and SU's 600-bed residence hall and retail complex.

In addition to managing the Office of State Treasurer and its divisions, Kopp leads several of the state's key financial planning committees and serves on the powerful Board of Public Works with Governor Martin O'Malley and Comptroller Peter Franchot. Previously, she was a member of the Maryland House of Delegates for 27 years.

For more information call 410-543-6030 or visit the SU Web site at www.salisbury.edu.