Friday, April 28, 2017
Spring Ratcliffe Shore Hatchery Winners Announced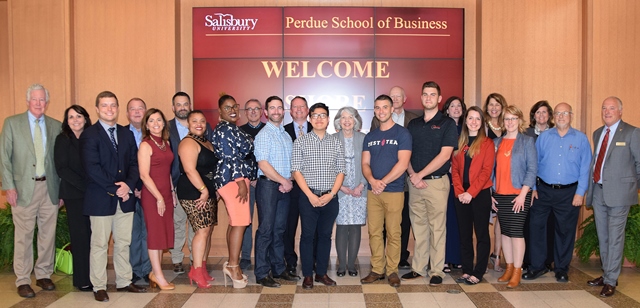 SALISBURY, MD---As undergraduates at Johns Hopkins University, Seal-Bin Han and Jordan Matelsky founded ShapeU, a fitness app geared toward college campuses and recreational centers.

When their focus shifted to gyms and health clubs, the app's name changed to something a little more universal: FitMango — selected as much for its memorability as its signal that the app was not just for college students anymore.

The Baltimore-based business recently made a splash on the Eastern Shore, taking home $25,000 in the eighth round of Salisbury University's Philip E. and Carole R. Ratcliffe Shore Hatchery entrepreneurship competition. Administered through SU's Franklin P. Perdue School of Business, the program's goal is to fund entrepreneurs in the mid-Atlantic and have new businesses opening within six months, with the potential of employing five or more within a year.

Though FitMango is a pre-existing business, its goals have expanded significantly since its founding. The app helps users find a gym and matches them with three to five peers led by a professional trainer, providing personalized service while reducing the cost that a one-on-one session would incur. Users also may track their fitness progress.

Han and Matelsky also are branching out to provide services for gyms, including personal training branding; software to help novice trainers operate at higher levels; and an interface that allows members to provide feedback after every session, access their previous workouts and receive rewards when they hit training milestones.

SU's program is not the only one that has recognized the duo for its innovativeness. The owners of FitMango have earned entrepreneurship honors including the James Jay Dudley Luce Foundation's Luce Leadership Award for young leaders working to better humanity and the $100,000 TEDCO Technology Commercialization Fund. FitMango also has earned $25,000 from AccelerateBaltimore, among other awards. The company has been featured in the Baltimore Sun, Washington Post, Huffington Post and Financial Times.

This semester's Ratcliffe Shore Hatchery competition drew 17 entrants, including three helmed by SU students and five local to Wicomico and Worcester counties. Judges gave away $95,000 in prize money. In addition to FitMango, winners included:

• Zest Tea - $20,000. This Baltimore-based company, winner of the 2015 World Tea Expo Best New Product award, wholesales high-caffeine flavored teas.

• Neuro Helmet Systems - $15,000. Led by a group of SU students, this company, a 2016 Ratcliffe Shore Hatchery winner, is working to create a high-tech motorcycle helmet attachable "heads up" display to increase safety for riders.

• Loophole - $10,000. Founded by students at Colgate and Towson universities, this Kickstarter-funded company manufactures an adhesive phone grip and kickstand that secures cell phones to users' hands.

• Accessmatized, LLC - $10,000. This Baltimore-based makeup studio offers services including photoshoots, and makeup-themed sip-and-paint classes, workshops and tea parties.

• Compassionately Creative - $7,500. This sewing workshop business in Baltimore specializes not only in creating original items, but teaching do-it-yourselfers how they can, as well, with a special focus on teaching skills to at-risk youth, seniors and women who are in shelters or incarcerated.

• Mind the Current, LLC - $7,500. Last semester's Ratcliffe Shore Hatchery top winner, Marsha Hammond of Baltimore, returned to show the judges her progress during the past six months, with a renewed focus on marketing to pediatric units. Her Dhremo Therapy IV Decals are applied on the side of IV drip bags, sending positive messages to help cheer hospital patients.

In addition to funding, winners and participants also receive mentoring support from the program's board. Mentors include business leaders such as Brian Ellis of the Philip E. and Carole R. Ratcliffe Foundation; Sandy Fitzgerald-Angello of Pohanka of Salisbury; Katherine Kiernan, chair of the Perdue School Executive Advisory Council; David Landsberger; Jean Sewell of CareFirst BlueCross BlueShield; and Doug Wilson of Private Wealth Partners, among others.



This semester, they also had the opportunity to record video pitches aboard the STRT1UP Road Show bus, which parked outside SU's Perdue Hall during the event. The videos will be uploaded the organization's YouTube site, where the public may view them and vote on their favorites. Winners receive mentorship and automatic bids into selected venture competitions as part of the Startup Maryland regional initiative. For more information visit www.startupmd.org/pitchmd.

The five-year Shore Hatchery program was established in 2013 through a $1 million gift from the Philip E. and Carole R. Ratcliffe Foundation of Baltimore with a goal of providing $200,000 per year in funding for entrepreneurs in the mid-Atlantic.

For more information call 410-543-6030 or visit the SU website at www.salisbury.edu and the Shore Hatchery site at shorehatchery.salisbury.edu.