Friday, June 15, 2012
Smith Named 2012 SU Employee of the Year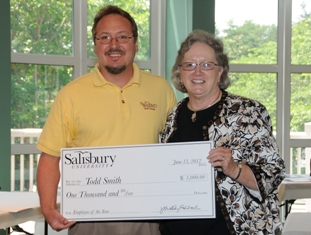 SALISBURY, MD---Todd Smith, Web communications manager in the Publications Office, is Salisbury University's 2012 Employee of the Year.
Announced during SU's annual Employee Appreciation Day, the winner receives a $1,000 cash prize.
Smith, one of SU's 12 SU Employees of the Month for the past fiscal year, was nominated for his creativity and teamwork. His nominator noted that in light of the extraordinary demands of his normal duties, he still finds the time and effort to provide quality service to SU's faculty through Web-based surveys and scheduling tools.
His behind-the-scenes work supporting the SU Student Research Conference was instrumental in improving the efficiency and increased verification of involvement and submissions, which resulted in a more successful conference overall, the nominator said.
In addition, it was mentioned that "much of this is beyond Todd's job description, and certainly beyond a comfortable work load, but he somehow finds a way to help." In a note of support, Sue Eagle, director of marketing and public relations, added that Smith is a great team player, eager to help and creative in problem-solving using very limited resources, and is a great listener with a genuine desire to meet or exceed the needs of the customer.
For more information call 410-543-6030 or visit the SU Web site at www.salisbury.edu.