Friday, July 13, 2012
Skoglund Named New SU Admissions Director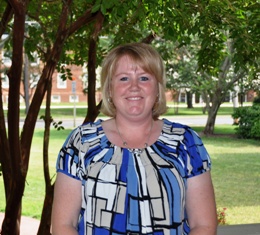 SALISBURY, MD---Have a son or daughter interested in attending college? Beth Skoglund wants to meet them.
In fact, Salisbury University's new admissions director says that's her favorite part of the job.
"I love getting to know people, finding out what they are looking for and making sure we are the right fit for them," she said.
Skoglund's new position at SU marks her return to college admissions following several years as the director of admissions for the Tilton School, a private high school in Tilton, NH.
Prior to that she spent 19 years in the admissions office at the University of Hartford, CT, where she earned her B.S. in elementary education and M.S. in education administration and supervision. She began her career in admissions as a graduate student there and has continued in the field for nearly a quarter-century.
Now, that career has brought her to SU.
"Showing Salisbury to families and having them choose SU will be very exciting," she said.
Skoglund lives in Cambridge with her husband, Thom, and two teenage children, Trevor and Emma.
For more information call 410-543-6030 or visit the SU Web site at www.salisbury.edu.