Tuesday, May 13, 2014
Six SU Students Attend Scientista Symposium at MIT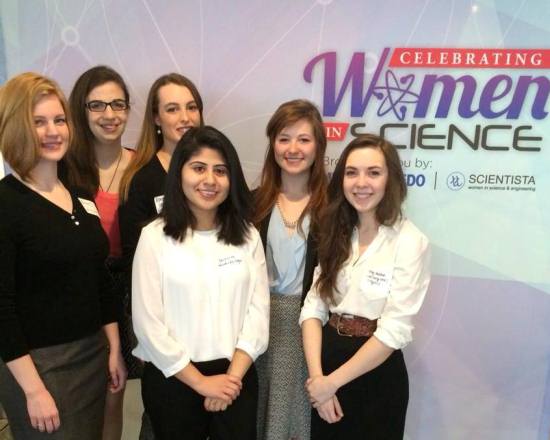 SALISBURY, MD---Six Salisbury University students recently attended the inaugural Scientista Symposium at the Massachusetts Institute of Technology (MIT) in Boston. Designed to enhance the education of women studying science, the symposium was titled "Scientistas Speak Out: The Importance of Communication in Science."
"My favorite part of the experience was knowing that I was with people who wanted to tell everyone about science," said sophomore May Palace, a physics major from Kent Island, MD. "It was a great feeling, and I think everyone felt the same way."
She, along with Sarah Confrancisco, Rachel Flanagan, Katherine Murphy, Louise Coltharp and Veronica Martinez-Vargas, took part in the symposium and presented research for ideas they hope to see in the future.
The day-long event also provided them opportunities to make connections and resources to help them become more advanced in science, technology, engineering and mathematics (STEM) fields. Palace said it was nice to be around so many people who were interested in science.
In addition to presenting their personal research, the students also could potentially win awards. Murphy, a junior physics major from Bel Air, MD; Confransisco, a sophomore physics major from Wychoff, NJ; and Flanagan a senior dual major in physics and mechanical engineering from Gambrills, MD, were among the participants.
"I presented my research in which I evaluated the efficiency of the passing lane on a multi-lane freeway by modeling traffic as a fluid, and then analyzing the shock waves created by a car suddenly slamming on its brakes," Murphy said.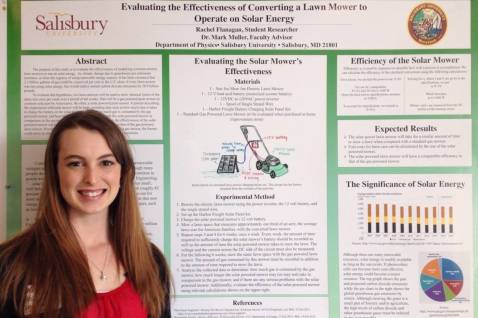 "I presented an undergraduate research project that evaluated the efficiency of converting a lawn mower to run on solar energy," Flanagan said.

The symposium included five guest speakers who shared information about their fields and knowledge from their work and experiences. Confrancisco said she enjoyed the diversity of panelists and speakers.

"There was a workshop on assertive communication that was very interesting and relevant to my life," she said. "It was taught by MIT professor Roberta Pittore."

Martinez-Vargas, a junior physics major from Salisbury, added, "It was a much-needed experience. I was blown away by the keynote speakers Elise Andrew and Deborah Berebichez." (Andrew is a British blogger and the creator of a popular science Facebook page. Berebichez is a physicist and co-host of Discovery Channel's Outrageous Acts of Science show.)

The conference allowed the students to make new friends and network with peers nationwide. The conference also included opportunities to meet potential future bosses at "exhibition tables" hosted by corporate sponsors.

"The Scientista Symposium was an incredible experience, and it awoke me to the tremendous amount of opportunities that are available to me as a woman in science," said Coltharp, a sophomore physics major from Kent Island. "It was great meeting and talking to other women my age working on their [degrees], as well as inspirational women who are already in the field. It was probably my favorite thing I have done so far for my undergraduate career."

Pictured (at top, from left) are Louise Coltharp, Sarah Confrancisco, Rachel Flanagan, Veronica Martinez-Vargas, Katherine Murphy and May Palace.

For more information call 410-543-6030 or visit the SU website at www.salisbury.edu.