Thursday, February 5, 2009
Six Legislative Interns from SU Receive Hanna Scholarships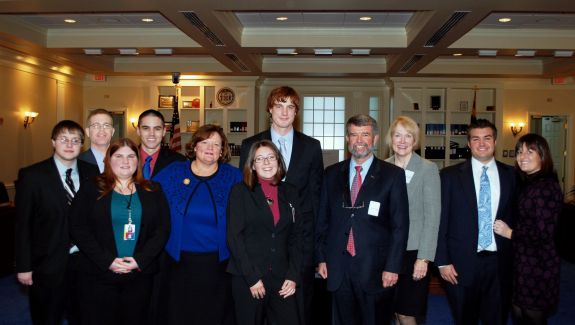 Pictured (L-R) are Hanna Scholarship recipients Shawn Jester of Salisbury, Christopher Rudolf of Ocean City, Heather Wight of Pasadena and David Davenport of Ocean Pines; SU President Janet Dudley-Eshbach; recipients Jennifer Tilley of Berlin and Gregory Reisler of Fallston; scholarship donors Henry and Dara Hanna; their nephew Wes Hanna and his wife, Lauren.
SALISBURY, MD---When Henry and Dara Hanna established a scholarship for legislative interns from Salisbury University, they hoped it would inspire students to find a passion for politics and community affairs.
In January, the first six recipients of the Henry H. "Buddy" Hanna Memorial Award excitedly headed to Annapolis to work for the Maryland General Assembly. From tracking bills and meeting constituents to attending caucuses and writing speeches, all are eagerly assisting state officials. The recipients are: David Davenport of Ocean Pines, Shawn Jester of Salisbury, Gregory Reisler of Fallston, Christopher Rudolf of Ocean City, Jennifer Tilley of Berlin and Heather Wight of Pasadena.
Named in honor of Henry's father, "Buddy," a civic leader and legislator from Wicomico County known for his enthusiasm, the scholarship is designed to aid SU juniors and seniors, especially those from Salisbury and the Eastern Shore who face added travel or living expenses.
"This scholarship provides much needed financial support for students," said Dr. Adam Hoffman of the Political Science Department, who coordinates the Maryland General Assembly Internship Program at SU. "Students are able to apply what they learn in the classroom to real world politics in our state capital. In addition, for some students, these internships lead to paid jobs as legislative assistants or analysts."
Rudolf, who is interning for Senator Janet Greenip, is excited about such employment prospects. He said he has already "made a ton of connections with people in Annapolis ranging from state legislators to lobbyists."
Other SU students are thankful that the scholarship helps ease transportation costs associated with interning, while also taking classes. Jennifer Tilley said it allowed her to move to Annapolis for the duration of the legislative session, so she can work the maximum number of days possible for Delegate Mary-Dulany James. For Wight, it helps her commute to Delegate Henry Heller's office.
"I feel lucky to receive a scholarship for this internship, since we are the first group of interns from Salisbury to receive such assistance," said Davenport, who works for Delegate Alfred Carr Jr.
"My father would truly appreciate that these Salisbury University students are enthusiastic about getting involved in public service and making a change," said Hanna, a former chair of the Salisbury University Foundation board.
With a political career that began in the Salisbury City Council, Buddy Hanna went on to serve three terms in the Maryland House of Delegates. As a child, Henry Hanna remembers traveling to the chamber in Annapolis with his father. He credits those experiences for inspiring his interest in government and politics, and his passion for serving the community. In addition to working as senior advisor for Sperry Van Ness—Miller Commercial Real Estate in Salisbury, he chairs the University's $30 million Capital Campaign 2012.
The scholarship ranges from $500 to $2,000 and is available to SU students with a minimum 3.0 GPA who are working as legislative interns. For more information call 410-543-6030 or visit the SU web site at www.salisbury.edu.