Friday, August 17, 2012
ShoreCorps/PALS Honors Members at Celebration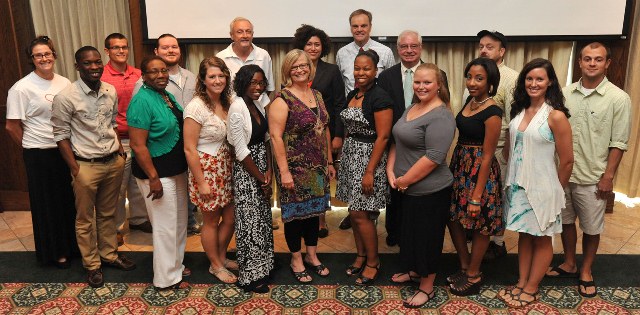 Pictured in the front row, from left: Kason Washington, Geneva Collins, Sherri Zirimis, Brittany Dickerson, Sherry Hostetler, Sonya White, Jessica Beebe, Tyniqua Brooks and Lisa Morres. In the top row, from left: Shanna Hubbard; Mace Davis; Cody Wehlan; Senator James Mathias; Julie Mendez, Governor's Office on Service and Volunteerism outreach coordinator; Dr. Maarten Pereboom, dean of SU's Charles R. and Martha N. Fulton School of Liberal Arts; Dr. George Whitehead, ShoreCorps/PALS project director; Brooks Onley; and Jeff Malcom.

SALISBURY, MD---ShoreCorps/PALS (Partnership for Adolescents on the Lower Shore), the AmeriCorps program at Salisbury University, recently celebrated the accomplishments of its members during its annual recognition ceremony.

Some 16 members were honored for their year of service with local organizations and agencies in Wicomico, Worcester, Somerset, Dorchester, Caroline and Talbot counties. They include: Jessica Beebe of New Church, VA; Keli Berkman, Geneva Collins, Brittany Dickerson, Shanna Hubbard, Lisa Morres, Cody Wehlan and Sonya White of Salisbury; Tyniqua Brooks of Easton; Mace Davis of Ridgely; Sherry Hostetler of Cambridge; Danny Livengood of Silver Spring, MD; Jeff Malcom of Princess Anne; Brooks Onley of Pocomoke City; Kason Washington of Fruitland; and Sherri Zirimis of East Northport, NY.

.: Related Sites :.

.: Related News :.

Maryland State Senator Jim Mathias (District 38 — Wicomico, Worcester, Somerset) keynoted the celebration. Mathias is a long-time advocate of community service and volunteerism, with a strong background in both.

ShoreCorps/PALS started its service to the community in 1995, the year after AmeriCorps was founded. The program is committed to providing members and sites with excellent service and an attitude of "getting things done."

Members serve in positions providing mentoring, homework assistance, conflict resolution; emergency preparedness and health education programs; establishing peer support groups; conducting community outreach activities; and recruiting volunteers to support project activities.

"I continue to be impressed with the dedication of AmeriCorps members to the Eastern Shore community," said Dr. George Whitehead, project director.

Community Partners for 2012 included the Somerset County Board of Education, Talbot Mentors, Prince Street Elementary School, Caroline County Recreation and Parks, the Fruitland Community Center, Big Brothers Big Sisters of the Greater Chesapeake, Stop the Violence in Wicomico County, the Village of Hope, Salisbury's Promise, the Salisbury Zoological Park, the Delmarva Discovery Center, Mid-Shore Community Mediation, the Worcester County Health Department, the Wicomico Mentoring Project, Kids of Honor and SU's Ward Museum of Wildfowl Art.

ShoreCorps/PALS is recruiting community partners and new members. For more information call 410-548-5119 or visit the organization's Web site at www.salisbury.edu/americorps.