Thursday, May 23, 2013
Shipper Co-Authors 'Organizational Dynamics' Article on Collaboration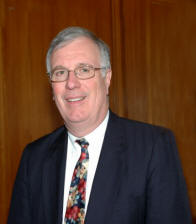 SALISBURY, MD---Dr. Frank Shipper, chair of Salisbury University's Management and Marketing Department in the Franklin P. Perdue School of Business, recently published an article in the current edition of the journal Organizational Dynamics.

The paper, co-authored by Karen Manz, independent author and researcher; Charles Manz, professor at the University of Massachusetts — Amherst; and Benita Harris, associate pastor of Asbury United Methodist Church in Salisbury, is titled "Collaboration That Goes Beyond Cooperation: It's Not Just 'If' But 'How' Sharing Occurs that Makes the Difference."

The article examines how Equal Exchange, the world's largest exclusively Fair Trade company, uses a boundary-free management style to its fullest potential. The business uses collaboration to solicit ideas and proposals from all levels and functions within the organization, and from customers and suppliers, as well. As a result, it has not only been profitable, but also has significantly impacted people's lives and the environment in some 20 countries.

Shipper has extensively researched the shared governance management model and its role in many top companies. His research has been referenced by national media, including MSNBC and The Wall Street Journal, and featured on the Aspen Institute's CasePlace Web site. He also has received several grants and awards to continue his work, including Rutgers University's prestigious Louis O. Kelso and Kevin E. Ruble fellowships.

For more information call 410-543-6030 or visit the SU Web site at www.salisbury.edu.