Wednesday, September 23, 2015
Shelton Wins Sophomore Year Experience T-Shirt Contest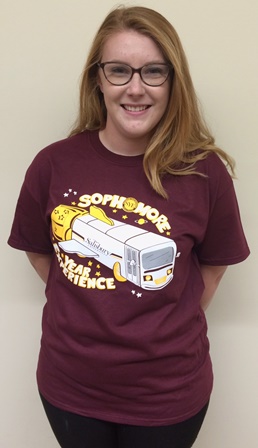 SALISBURY, MD---Salisbury University junior Emily Shelton tapped into her memories — both childhood and collegiate — to create the 2015 SU Sophomore Year Experience T-shirt.

Shelton, a fine art major from Salisbury, is the winner of this year's T-shirt design contest. Her image, titled "The Magic Shuttle Bus," combines the iconic vehicle from the 1990s Public Broadcasting Service TV show The Magic School Bus with the SU shuttle bus she frequently rode to and from campus as a freshman.

"College students are very nostalgic," she said, citing that emotion as her inspiration.

For her efforts, Shelton won a $100 gift card to the SU Bookstore. She also received several T-shirts for herself and her family.

Created in 2013, the Sophomore Year Experience program provides a cohesive series of events for SU's second-year students, including departmental gatherings, projects focusing on campus and community involvement, and social functions such as an annual End-of-Summer Bash.

For more information call 410-543-6030 or visit the SU website at www.salisbury.edu.