Tuesday, May 1, 2012
Seven Honored With 2012 President's Diversity Awards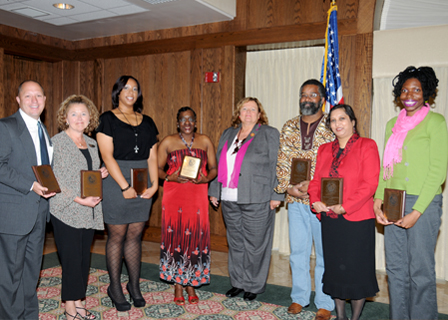 Dave Gutoskey, Marianna Cerulli, Vanice Antrum, Barbara Montgomery Davis, SU President Janet Dudley-Eshbach, Dr. James King, Moushumi Chakraborty and Cherita Richards.
SALISBURY, MD---Salisbury University recently honored seven members of the campus community with its 2012 President's Diversity Awards.
They included undergraduate student Vanice Antrum, graduate student Cherita Richards, non-exempt employee Barbara Montgomery-Davis, professional staff member Kate Cerulli, administrator Dave Gutoskey, faculty member Dr. James King and librarian Moushumi Chakraborty.
Antrum is a senior information systems major in the Franklin P. Perdue School of Business. The president of the Union of African American Students, she also is secretary of the Student Alumni Council and a Student Orientation Program peer leader and has been a delegate for the National Black Student Leadership Development Conference and the Maryland Youth Advisory Council.
Richards is the graduate assistant for the SU Diversity Office and has been instrumental in continuing that office's initiatives in the past year. In addition, she is active in the Caribbean Student Organization.
Montgomery-Davis is a cashier in Dining Services. Known as "Miss Barbara" to many of the students, she takes an interest in their lives, offering daily hugs and words of encouragement, and asking them about their academic work.
Cerulli is the University dietitian. Each semester, she works with the Office of Cultural Affairs to present an international meal series, researching menus and culture. She strives to find the most authentic recipes for each meal and writes articles for the Commons' publications to aid in understanding the country or event being highlighted.
Gutoskey, director of housing and residence life since 1993, was honored for expanding diversity within not only his own staff, but on the board of directors for the Mid-Atlantic Association of College and University Housing Officers organization, which he served as president. His successor in the organization, whom he personally recruited, was the association's first Latina president.
King, assistant professor in the English Department, is well known for teaching courses that fulfill the diversity requirement in the English major. He has served as a Fulbright Scholar at the University of Ghana in Legon and extensively researched topics relating to African-American literature and identity, including cultural leader W.E.B. Dubois. He also has brought diverse speakers to campus, including Nigerian writer Okey Ndibe.
Chakraborty is the head of public services for Blackwell Library, as well as a proponent of international culture. She has been instrumental in hosting multiple international exhibits at the library and has taught a series of Indian dance classes through the Office of Cultural Affairs. She has presented on campus as part of Women's History Month and the Multicultural Festival, has served on the SU Cultural Affairs Committee, and helps teach international students as the library's liaison for the English Language Institue.
For more information call 410-543-6030 or visit the SU Web site at www.salisbury.edu.