Friday, February 2, 2007
Senator Brian E. Frosh is Honored as 2007 Hargreaves Distinguished Fellow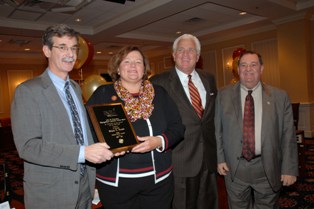 From left: Senator Brian E. Frosh accepts the 2007 John R. Hargreaves Distinguished Legislative Fellow Award from Salisbury University President Janet Dudley-Eshbach as former Hargreaves fellows Thomas V. Mike Miller, president of the Senate, and Delegate Norman H. Conway, chair of the House Appropriations Committee, look on.
ANNAPOLIS, MD---In a ceremony held in the Miller Senate Office Building on Thursday, Senator Brian E. Frosh (D-16-Montgomery) was honored as the 2007 John R. Hargreaves Distinguished Legislative Fellow.
The award, designed to recognize outstanding legislators for effective and honorable public service, was presented by Salisbury University President Janet Dudley-Eshbach, as part of SU's annual Day at the Legislature.
"Throughout his career, Senator Frosh has embodied Maryland's finest tradition of honorable public service. He has established a well-deserved reputation as the legislature's leading conservationist, and as an enthusiastic and dependable supporter of Maryland higher education," said Dudley-Eshbach.
Previous Hargreaves Award recipients have been Senators Thomas V. "Mike" Miller and J. Lowell Stoltzfus, and Delegates Sheila Hixson, Norman Conway and the late Howard "Pete" Rawlings.
Sponsored by SU's Institute for Public Affairs and Civic Engagement (PACE), the Hargreaves Award not only salutes Maryland public servants, but "also has the purpose to allow our students to come into contact with truly outstanding state legislators and let them see first hand what public service is all about," said Dr. Harry Basehart, co-director of PACE.
A former member of the Maryland House of Delegates (1987-1994) and current member of the Maryland Senate (1995-present), Frosh chairs the Senate's Judicial Proceedings Committee. Previously he served as the Senate's Deputy Majority Leader and as chairman of the Environment Subcommittee. He is a member of the tri-state Chesapeake Bay Commission, which he chaired in 2001.
SU President Janet Dudley-Eshbach congratulates Senator Frosh on the award.
Frosh has a wide range of legislative interests but is known especially as an advocate for environmental protection, education, juvenile justice, citizen privacy and election and campaign finance reform. The Washington Post has called him "one of the most respected members of the General Assembly." The Montgomery Gazette says he is "one of the state's most thoughtful and principled senators." The (Baltimore) Sun says "he has won bipartisan respect as the chamber's leading expert on environmental issues."
"Brian Frosh is perhaps best known as one of the great gentlemen of Maryland politics," said Dudley-Eshbach. "By virtue of his modesty and integrity, he has earned the abiding respect of constituents and colleagues from both parties. His record of accomplishment reminds us that the most effective leaders persuade their audience with civility, facts and logic."
The recipient of numerous awards, Frosh has been honored by many groups and organizations, including the League of Conservation Voters, the American Lung Association, the Maryland Consumer Rights Coalition, the Audubon Naturalist Society, the Maryland Bar Association, the Sierra Club, the National Center for Children and Families, and Common Cause.
In addition to his activities in the Maryland General Assembly, Frosh has long been interested in international affairs. He studied at the University of Stockholm and in recent years has traveled to Eastern Europe several times to serve as a panelist on forums dedicated to the development of democratic institutions. He has also visited Russia to speak on the electoral process.
A graduate of Montgomery County's public schools, Wesleyan University and Columbia University Law School, Senator Frosh practices law in Bethesda. He is married and has two children.
Funding for the award was made possible by contributions to Salisbury University in memory of John R. Hargreaves, a member of the Maryland General Assembly from Caroline County. As part of the fellowship program, Frosh will meet with a group of PACE students later in the legislative session and afterward come to the SU campus to speak to students and community members.
For more information call 410-543-6030 or visit the SU Web site at www.salisbury.edu.