Tuesday, October 18, 2016
Sea Gull Fund Continues to Grow at SU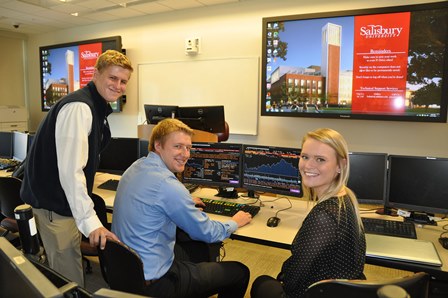 Pictured, from left: Lead analysts Kyle Cooper, Aaron Wall and Jennifer Pulliam use SU's Bloomberg terminal to perform research for the Sea Gull Fund

SALISBURY, MD---What are the odds a group of college investors can out-perform the Standard & Poor's average over the course of 16 years?

At Salisbury University's Franklin P. Perdue School of Business, very good.

Since 2001, groups of practicum students have managed an investment fund for the Salisbury University Foundation, Inc. In that time, the fund has grown from an initial balance of $286,000 to some $600,000 as of this September. Overall, the fund has seen 50.6 percent lifetime growth, besting the Standard & Poor's average of 48.11 percent over the same time period, said Dr. Herman Manakyan, who oversees the initiative.

Only about 30 percent of professional investors achieve long-term results that good, he noted.

"The students' returns are on par with those of our financial advisors," said Jason Curtin, SU interim vice president of advancement and interim executive director of the SU Foundation. "The fund not only allows us to fulfill our mission of providing meaningful educational opportunities for students, but to secure a good return on donor investment. It's a win-win."

The idea for the project began in 1999, when Perdue School alumnus Wayne Judkins and his wife, Melissa, also an SU graduate, sought to create a scholarship fund for SU students. As a senior trader with Goldman Sachs at that time, Judkins liked the idea of giving students hands-on experience by allowing them to manage the fund through an experiential learning course.

At the time, only about 70 other schools in the nation had such a program, Manakyan said. Today, that number has blossomed to some 250. A new faculty member in the Perdue School's Economic and Finance Department, Manakyan was selected to oversee the initiative due to previous experience with such student-directed funds through a program run by the Tennessee Valley Authority.

"We were early in recognizing the students' ability to manage real funds," he said.

The initial balance stemmed not only from the Judkins family's donation, but from a contribution from the Perdue School and from the SU Foundation Investment Committee. The committee recently reaffirmed its commitment to the program — now called the Sea Gull Fund — pledging an additional $50,000 investment each quarter for the next two years.

In the past 16 years, some 500 students have taken part in the program. Each semester, teams of three to four students are assigned to study investment opportunities in 10 sectors as defined by Standard & Poor's: industrials, consumer staples, consumer discretionary, energy, financials, healthcare, information technology, materials, telecommunications and utilities.

The students take a "top-down" analytical approach, considering the financial forecast, economic conditions and predictions for each sector, as well as how much weight that sector should carry in the overall portfolio. From there, they begin researching companies within those sectors which might make good investments. All students in the program vote, and a two-thirds majority is required before a purchase is made. In the end, the students must answer to an advisory board, which assesses their work.

"The idea is to make this initiative as real as possible for the students," Manakyan said, quickly adding that while he helps guide students through the process, he makes sure not to influence the outcome. "The instructor is only a facilitator. The students make all the decisions."

For the past five years, SU students in the program also have participated in the Global Asset Management Education (GAME) Forum for student fund managers at Quinnipiac University, further enhancing their experience. Lessons learned in the SU program have helped many get a leg up in the job market, Manakyan said.



"Using the class on my resume went a long way in helping me land a great internship, which led to a job offer for after graduation," said senior finance major Bryton Adkins of Ocean City. "The end-of-semester presentation to the Perdue Faculty and Advisory Council is very similar to having to present your work to upper-level management."

Senior finance major Aaron Wall of Columbia, MD, agreed, calling the program "without a doubt the most beneficial education experience I have had at Salisbury. This class provides hands-on learning that is unmatched by any classroom instruction. When interviewing for jobs and internships, it usually is the first thing that comes up."

Wesley Cox, now a senior advisor at Sperry Van Ness-Miller Commercial Real Estate, Inc., said working with the fund prior to his graduation from SU in 2002 was "one of the best college experiences I had. Being the fund's lead advisor is what inspired me to want to be a leader from that point forward in my professional career."

Manakyan enjoys hearing success stories like Cox's. He is hoping to celebrate a success of a different kind soon: His goal is to see the Sea Gull Fund top $1 million by the end of 2018.

For more information call 410-543-6030 or visit the SU website at www.salisbury.edu.