Tuesday, October 20, 2015
Sculpture by SU's Durow, Glass Students Unveiled at Rivers Edge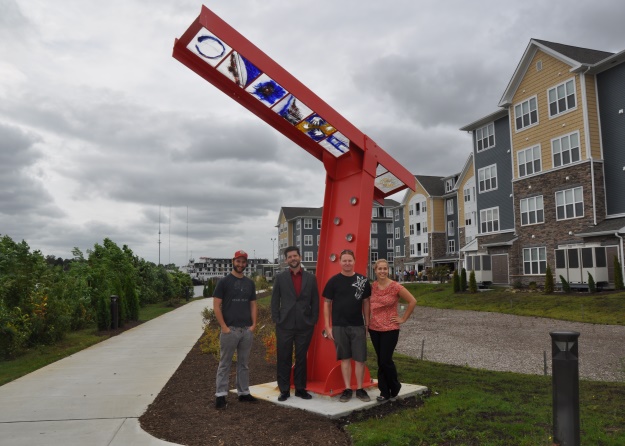 SALISBURY, MD---A 16-foot glass and metal public sculpture made by Salisbury University art faculty and students was dedicated during the grand opening of the Rivers Edge Apartments and Studio for the Arts.

"We are thrilled to have an amazing piece of artwork," said Andrew Hanson, vice president at Osprey Property Company, LLC and 2003 SU graduate. He applauded Steven Durow of SU's Art Department and the student crew: seniors Jason Giusti of Bishopville, MD; Riley Greenwood of Salisbury; Ryan Mariner of Snow Hill, MD; Chris Foreman of Mount Airy, MD; Elena Taylor of Towson, MD; and junior Rachel Price of Bethesda, MD.

The SU students assisted Durow for over a year on the project. Taylor, president of SU's Glass Club, recalled the treacherous weather conditions when the piece was erected with a large crane last spring.

"Every aspect of working on this project has helped me realize all of the work that goes into a large scale installation like this," she said. "Working with Steven Durow is intense and exhilarating. Not only has this helped me as an artist but personally I had to become better with time management."

The colorful two-ton colorful sculpture is made from two large pieces of steel beam taken from the demolition of a partially constructed structure that sat abandoned on the Wicomico River site for some six years.

The piece was inspired, in part, by Durow's move to Salisbury from New Orleans with his son and their first drive over the Chesapeake Bay Bridge. Featuring overhead glass panels that create a narrative with imagery representative of both worlds, including Hurricane Katrina, their hands and the bridge, it symbolizes the connection of the past with a promise of a future.

In addition to teaching glass art at SU, Durow focuses on large-scale sculpture and installations, and works with glass as well as steel, stone and other materials. His art has been displayed at museums and galleries in Chicago, Cincinnati, Colorado Springs, Grand Rapids, Key West and New Orleans, among other places.

The new complex offers affordable housing designed for creative spirits of all ages, from families to seniors and is adjacent to Salisbury's Arts & Entertainment District.

Pictured, from left, are Foreman, Durow, Giusti and Taylor. For more information on Durow's work, visit his websites at http://www.salisbury.edu/art/faculty/durow.html and http://www.stevendurow.net/.