Friday, January 27, 2012
Science Nights @ SU Continue in March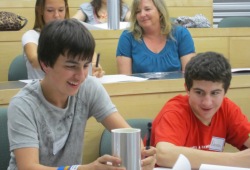 SALISBURY, MD---Salisbury University continues its free Science Nights @ SU program for high school students.

During sessions, experts explore various math- and science-related fields, discussing current research, career options and more. All Science Night presentations are 6-8 p.m. in Henson Science Hall Room 243.

The 2011-12 series continues Thursday, February 23, with a session on earth and atmospheric science presented by Drs. Brent Zaprowski and Darren Parnell of SU's Geography and Geosciences Department.

"We will talk with students about the wide variety of career paths for those with degrees in Earth or Atmospheric Science, especially as a field scientist," Zaprowski said. "Later in the night there will be hands-on activities in our earth science lab demonstrating the kinds of skills a geoscientist uses in the 'real world.'"

Parnell added: "Students will also learn how atmospheric measurements are taken and used to create a weather forecast."

The series concludes on Thursday, March 29, with a session on chemistry led by Mindy Howard of SU's Chemistry Department.

Sessions are open to all high school students from the local region and beyond, especially those considering careers in the growing fields of science, technology, engineering and mathematics (STEM).

For more information or to register, visit the SU STEM Web site at www.salisbury.edu/henson/stem/sciencenights.

For questions about Science Nights @ SU, contact SU STEM Coordinator Kristen Edwards at 410-677-5368 or kaedwards@salisbury.edu.