Friday, January 13, 2012
Schmidt Youth Vocal Competition Returns to Salisbury Saturday, February 4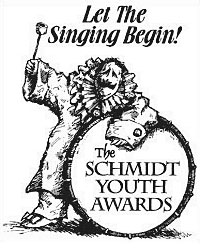 SALISBURY, MD---The Schmidt Youth Vocal Competition returns to Salisbury 9 a.m.-5 p.m. Saturday, February 4, at Asbury United Methodist Church.
Sponsored by the William E. Schmidt Foundation and hosted locally by the Salisbury University Department of Music, the competition offers prizes up to $2,000 for participating high school sophomores, juniors and seniors in Maryland, Delaware, Virginia, West Virginia, Pennsylvania, New Jersey and Washington, D.C.
Students begin the competition during a morning round, singing two pieces, one of their own choosing and one selected by the judges. All contestants then will have the opportunity to participate in a master class.
Following that, finalists are announced and asked to perform a third song of their choosing. Each song must represent a different period and style and may include Classical, Romantic, Impressionistic, Contemporary Art or Broadway.
Prizes will be awarded at the end of the finals round. They include $2,000 for first place, $1,500 for second, $1,000 for third, and $100 each for finalists. Other $100 prizes include the Encouragement, Broadway Bound and Most Promising Sophomore awards.
Admission is free and the public is invited. The fee to enter is $25 per student. Entries are limited to 35. For competition rules and an application form visit http://schmidtcompetition.org. For more information call 410-543-6214 or visit the SU Web site at www.salisbury.edu.