Wednesday, September 12, 2012
Salisbury/Wicomico Named Among '100 Best Communities for Young People' for Sixth Year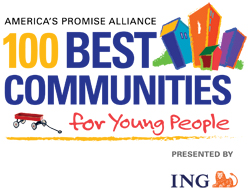 SALISBURY, MD---For the sixth year, Salisbury University and other regional organizations have helped make Wicomico County and the City of Salisbury one of the 100 Best Communities for Young People, according to the America's Promise Alliance.
More than 320 communities in all 50 states applied for the honor this year. Wicomico County and the City of Salisbury were selected in large part because of public and private partnerships that prepare young people for success.
Among the highlighted initiatives were the Wicomico Partnership for Families and Children, a cross-sector collaboration of some 30 organizations ranging from child-serving agencies to businesses and community funders. These programs serve more than 1,000 youth annually through mentoring, gang intervention programs, after-school activities and family workshops.
Also spotlighted was the Wicomico Mentoring Project, which matches students with volunteer mentors, including those from SU. Salisbury Horizons, which provides children from low-income families with the opportunity to participate in academic, cultural and recreational programs, was highlighted, as well.
"Once again being named one of America's Promise Alliance's 100 Best is significant and meaningful to the entire community," said Dr. George Whitehead, chairman of the Salisbury's Promise Alliance. "So many dedicated people and programs contributed to this win, and it further reinforces our belief that a focus on youth pays dividends to the entire community."
A $2,500 grant that accompanies the award will fund a community celebration and help continue the area's Youth Leadership Academy, a three-day summer institute at SU.
The nation's largest alliance dedicated to children and youth, America's Promise (in partnership with the global financial institution ING) based the designation on the area's programs, agencies and individuals committed to bettering children's lives. The annual competition recognizes outstanding communities across Americalarge and small, rural and urbanthat are the best places for young people to live and grow up.
The competition required submitting detailed information to America's Promise on existing community programs and initiatives that help deliver the Five Promises, which are resources identified as being critical to the development of healthy, successful children. These include caring adults, safe places, healthy start, effective education and opportunities to help others. Applicants were also asked to describe how different sectors of their community deliver the Five Promises, and how specific programs ensure that young people graduate from high school prepared for college and the workforce.
For more information visit the America's Promise Web site at www.americaspromise.org.