Friday, October 14, 2011
Salisbury, Wicomico Named Among 'Best Communities' for Fifth Year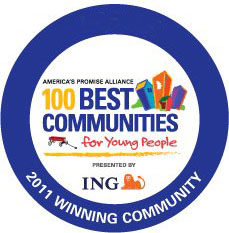 SALISBURY, MD---For the fifth year, Salisbury University and other regional organizations have helped make Wicomico County and the City of Salisbury one of the 100 Best Communities for Young People, according to America's Promise Alliance.
More than 300 communities in all 50 states applied for the honor this year. Wicomico County and the City of Salisbury were selected in large part because of public and private partnerships that prepare young people for success.
Among the highlighted initiatives is Salisbury's Promise: Alliance for Youth. Led by Dr. George Whitehead of SU's Psychology Department, the program fosters connections between schools and faith-based groups to recruit mentors, develop leadership training academies, and offer afterschool tutoring to encourage academic success.
"We are proud of Salisbury and Wicomico County for being named one of the 'America's Promise Alliance's 100 Best,'" said Wicomico County Executive Richard M. Pollitt Jr. "This award recognizes the hard work of many community members who have dedicated their time to making a difference in the lives of our young people."
Other noted programs include the Wicomico Partnership for Families and Children, which supports over 1,000 activities and services for young people, as well as the Wicomico County Mentoring Project. Kids of Honor, founded by Dr. Paula Morris of SU's Management and Marketing Department, also earned kudos for helping Wicomico increase its graduate rate: 100 percent students who participate in the program graduate on time or ahead of their peers. Many of these groups have teamed up to sponsor a three-day summer Youth Leadership Academy at SU for the past four years.
The nation's largest alliance dedicated to children and youth, America's Promise (in partnership with the global financial institution ING) based the designation on the area's programs, agencies and individuals committed to bettering children's lives. The annual competition recognizes outstanding communities across Americalarge and small, rural and urbanthat are the best places for young people to live and grow up.
The competition required submitting detailed information to America's Promise on existing community programs and initiatives that help deliver the Five Promises, which are resources identified as being critical to the development of healthy, successful children. These include caring adults, safe places, healthy start, effective education and opportunities to help others. Applicants were also asked to describe how different sectors of their community deliver the Five Promises, and how specific programs ensure that young people graduate from high school prepared for college and the workforce.
For more information visit the America's Promise Web site at www.americaspromise.org.