Wednesday, April 26, 2017
Salisbury Symphony Orchestra Performs 'The Magic of the Flute' Concert May 13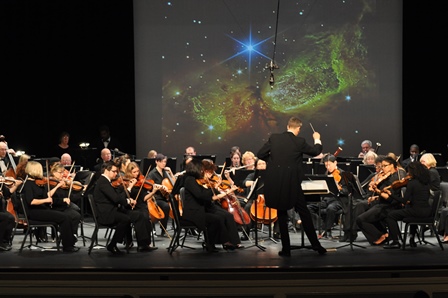 SALISBURY, MD---New York Times critic Zachary Woolfe recently called the Los Angeles Philharmonic "America's most important orchestra. Period."

If that's the case, then its principal piccolo, Sarah Jackson, is arguably the nation's most important piccoloist.

Local audiences will have the opportunity to decide (and likely will not need much convincing) during the Salisbury Symphony Orchestra's (SSO's) annual Spring Concert, "The Magic of the Flute."

Directed by Dr. Jeffrey Schoyen, the concert is 7:30 p.m. Saturday, May 13, in Holloway Hall Auditorium, culminating Salisbury University's annual Spring Music Festival, "Musical Legends."

Jackson, also a flutist with the L.A. Phil, joins the SSO on works including Mozart's "Andante for Flute and Orchestra," K. 315, and "Rondo in D Major for Flute and Orchestra," K.V. 184, as well as Eugène Damaré's "The Turtledove" for piccolo and orchestra. Other selections include the "Overture" from Mozart's Die Zauberflöte (The Magic Flute), Paul Dukas' "The Sorcerer's Apprentice" and Manuel de Falla's El Amor Brujo Suite.

The concert is a homecoming of sorts. Her parents, Dr. Peter and Judy Jackson, are major benefactors of the symphony. Her late grandfather, Dr. Roger Jackson, was a founding board member and player.

One of the nation's leading musicians, Jackson previously performed with the SSO in February 2005 with
her husband, guest musical director and conductor Clyde Mitchell, and again for the orchestra's 25th anniversary season in 2011.

She has held the position of piccolo for the Los Angeles Philharmonic since 2003 and was a featured player in a PBS broadcast conducted by the internationally renowned Gustavo Dudamel. She also was one of six musicians sent by the L.A. Phil to teach in Venezuela's internationally renowned children's program.

In addition to orchestral playing and teaching, Jackson has frequently been engaged as soloist on flute and piccolo in Japan, the Czech Republic, Canada and the U.S., and has been featured on the cover of Flute Talk magazine. She has played for numerous films, CD recordings, and TV and radio broadcasts.

A sought-after teacher who attracts students from across North America, she conducts a master class for SU and local high school flute and piccolo students 4 p.m. Thursday, May 11, in the Great Hall of Holloway hall. Admission is free and the public is invited.

Admission to the SSO concert is $25, $20 for seniors age 60 and older, $10 for SU faculty and staff, and $5 for students and children 18 and under. Advance tickets are available online at www.SalisburySymphonyOrchestra.org and at the Guerrieri Student Union Information Desk.

The concert is sponsored by Chesapeake Nurseries, Inc.; Eastern Shore Coffee & Water; Peninsula Imaging, LLC; Granger & Co., PA; McIntyre's Electrical Service Wire Works; Merrill Lynch Wealth Management; Staples & Associates Insurance & Financial; and MNET Mortgage. The SSO is supported, in part, by grants from the Maryland State Arts Council and Salisbury Wicomico Arts Council. Funding for the Maryland State Arts Council is provided by the National Endowment for the Arts.



For more information call 410-543-8366 or email Tammy Kilgore, SSO manager, at twkilgore@salisbury.edu.