Monday, February 20, 2012
Salisbury Symphony Orchestra Performs Mar. 3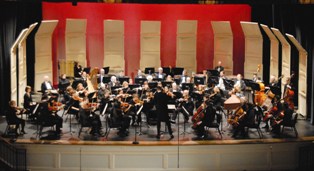 SALISBURY, MD---The Winter Concert by the Salisbury Symphony Orchestra at Salisbury University (SSO) on Saturday, March 3, spotlights the music of two of the world's most popular composers in "A Bach and Mozart Celebration."
Dr. Jeffrey Schoyen returns to the podium for the 7:30 p.m. performance in Holloway Hall Auditorium.
The evening features Mozart's famed Clarinet Concerto, with guest artist Les Nicholas, and J.S. Bach's Double Concerto for Two Violins, with Drs. Frank Restesan and Sachi Murasugi. Other works include J.S. Bach's Orchestra Suite No. 1 and Mozart's Symphony No. 2.
The Clarinet Concerto is one of the composer's best known works. Completed less than two months before his death, it has been described as "valedictory" and "autumnal," which doesn't describe the extraordinary vigor and verve of this inspired piece, said SSO manager Derek Bowden.
Nicholas has appeared as principal clarinetist at Lincoln Center's Alice Tully Hall and at the Kennedy Center for the Performing Arts. He also has performed throughout Europe. He has served as principal clarinetist with several well-known ensembles including New York's Classic Chamber Orchestra, the West Virginia Symphony, ProMusica Columbus, the Dallas Chamber Orchestra and the New York Harlem Opera.
The Double Violin Concerto is one of Bach's most famous works and is among the best examples of music from the late Baroque period. It has been the subject of jazz improvisation, a ballet by George Balanchine, and was featured in films such as Woody Allen's Hannah and her Sisters.
Violinist Murasugi has performed extensively as a professional orchestral and chamber musician. The concertmaster of the SSO, she has served in a similar capacity for the Sorg Opera Orchestra in Ohio and Filarmonica del Bajio in Mexico. She also has been a member of the West Virginia Symphony, Louisiana Philharmonic and Springfield Symphony. As a chamber musician, she has performed throughout the United States, Mexico and Spain including the Museo del Prado in Madrid.
A native of Romania, Restesan received a Bach Performance Diploma in violin from the Bach Academy in Stuttgart, Germany, in 1992 and undergraduate and master's degrees from the Romanian Conservatory of Music in 1995 and 1996. He completed a Doctor of Musical Arts in orchestral conducting at the University of Arizona in 2007. Restesan has performed on prestigious stages throughout Europe, as well as Puerto Rico and Carnegie Hall.
Stephen E. Hill of Livingston, Hammond & Hill Wealth Management, and Eastern Shore Coffee & Water sponsor the concert. LORA restaurants in the Salisbury area offer a 15 percent discount to ticket holders during the weekend. For a list of participating restaurants visit the LORA Web site at www.lorarestaurants.com.
Tickets are $20, $15 for seniors age 60 and up, and $5 for children 12 and under. For the first time, advance tickets are available to purchase and print online at www.SalisburySymphonyOrchestra.org. Tickets also may be purchased at the Information Desk of the Guerrieri University Center. A reception follows the concert in the Holloway Hall Social Room.
A free shuttle runs from the Guerrieri University Center parking lot on Dogwood Drive to Holloway Hall from 6:30-7:30 p.m. and returns following the concert. For more information call 410-548-5587.