Monday, February 20, 2017
Salisbury Symphony Orchestra Performs Annual Children's Concert March 11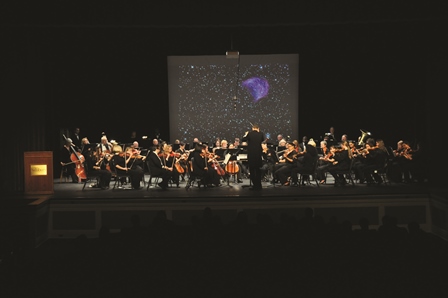 SALISBURY, MD---The Salisbury Symphony Orchestra at Salisbury University (SSO) performs its annual Children's Concert, "Really Inventive Stuff," 3 p.m. Saturday, March 11, in Holloway Hall Auditorium.

Directed by Dr. Jeffrey Schoyen, the show includes a fully staged, vaudeville-inspired performance of Sergei Prokofiev's Peter and the Wolf. In addition, The Professor, a whimsical Austrian sound scientist, seeks the audience's help in finding (and ultimately becoming) the missing instrument needed to complete the orchestra's performance of Leopold Mozart's The Toy Symphony.



Admission is $10, $5 for students age 13 and up, free for children 12 and under with an adult. Tickets are available online at www.SalisburySymphonyOrchestra.org and at the Guerrieri University Center Information Desk.

For more information, call 410-543-8366 or email Tammy Kilgore, SSO manager, at twkilgore@salisbury.edu.