Friday, October 23, 2015
Salisbury Mayor and City Council Candidate Forum Available to View Online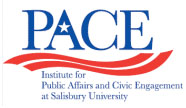 SALISBURY, MD---The Salisbury mayor and city council candidate forum co-hosted by Salisbury University's Institute for Public Affairs and Civic Engagement (PACE) and the Salisbury Area Chamber of Commerce on Wednesday, October 21, may be viewed online.
Originally broadcasted live by 47 ABC, the event is available on YouTube at https://youtu.be/JVPM9QvzveM.
Participating candidates included:
•Mayor – Jake Day (unopposed)
•City Council District 1 – Sarah Halcott, April Jackson and Shanie Shields
•City Council District 2 – Keyvan Aarabi, Marvin Ames and Muir Boda
•City Council District 3 – Jack Heath, Kevin Lindsay and Tim Spies
•City Council District 4 – Roger Mazzullo
•City Council District 5 – Laura Mitchell (unopposed)
Invited, but not present at the forum, were City Council District 2 candidate Justin Gregoli and District 4 candidate Jim Ireton.
For more information call 410-543-6030 or visit the SU website at www.salisbury.edu.