Thursday, October 30, 2014
Salisbury Film Society Screens 'Twenty Feet From Stardom' Sunday, November 2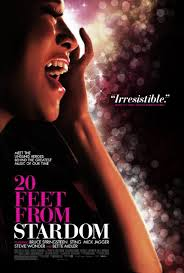 SALISBURY, MD---One of the most popular and critically acclaimed Academy Award-winning documentaries in recent years, Twenty Feet From Stardom, will be shown 2:30 p.m. Sunday, November 2, in Fulton Hall 111, at Salisbury University.

The next offering by the Salisbury Film Society, the 2013 documentary looks at the lives of backup singers for the Rolling Stones, David Bowie, Lou Reed and more. It includes interviews and appearances by Bruce Springsteen, Mick Jagger, Bette Midler and others.

"Irresistible," wrote Kenneth Turan in The Los Angeles Times. "It's a winner," said Paul Gall of Billboard. "It drove me out of my mind with pleasure," said David Edelstein, in New York magazine.

The film salutes music's unsung heroes: backup singers who live in a world that lies just beyond the spotlight. Their voices bring harmony to the biggest bands in popular music, but audiences had no idea who these singers are or what lives they lead, until now. Director Morgan Neville mixes archival footage and interviews with the singers and with key figures in the music business. The documentary is equal parts music history and African-American cultural history, expressing the revivifying nature of music.

"It's that versatility that defines these singers, the ability to make following seem as important as leading," said Jim Farber of New York Daily News. Rafer Guzman of Newsday saw an "illuminating documentary that looks into a small corner of the music industry to find deeper truths about talent, artistry and success."

Twenty Feet From Stardom received numerous honors for Best Documentary including the Academy Award, American Cinema Editors Award and Broadcast Film Critics Association Award.

A group discussion follows the screening. The series is co-sponsored by the Salisbury Wicomico Arts Council (SWAC) and SU's Charles R. and Martha N. Fulton School of Liberal Arts. Tickets are $9, $8 for SWAC members, free for college and university students with ID.

The last screening of the fall season will be Museum Hours on Sunday, December 7. For more information call 410-543-2787 or visit the SU website at www.salisbury.edu.