Thursday, July 1, 2010
Salisbury Earns All-America City Honor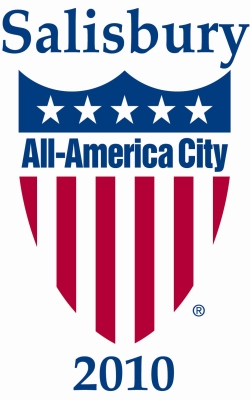 SALISBURY, MD---When the National Civic League recently named Salisbury an "All-America City," it recognized important connections with Salisbury University.

The award highlighted three community projects—all of which involved the University—that show the city's capacity for problem solving, civic engagement and cooperation between public, private and nonprofit sectors.

"During the nomination process, judges asked specifically about the University's role in the community," said Dr. George Whitehead, an SU psychology professor who spearheaded the application committee. "This recognition really is exciting not only for the city of Salisbury, but also for the Shore, because it shows that there are a lot of good things happening down here, which will draw businesses and visitors to the area."

Co-author of A Glorious Revolution for Youth and Communities, Whitehead chairs Salisbury's Promise and, for years, has been instrumental in making Salisbury a model community for young people. The highlighted projects address such issues as providing for the homeless, revitalizing neighborhoods and encouraging youth leadership.

The SU Social Work Department, for example, was instrumental in developing emergency shelters that serve homeless men, women, children and veterans in the region. SU students volunteered manual labor including landscaping during a housing revitalization project on Rose and Lake streets. The campus also houses the Youth Leadership Academy, a free annual summer program that engages non-traditional leaders in grades 8-11.

Salisbury was one of 10 cities selected from 27 finalists. The award focuses on outstanding and innovative civic partnerships and accomplishments that use innovation to address communities' most pressing challenges.

For more information call 410-543-6030 or visit the SU web site at www.salisbury.edu.