Wednesday, November 7, 2012
Salisbury Chorale Performs Nov. 13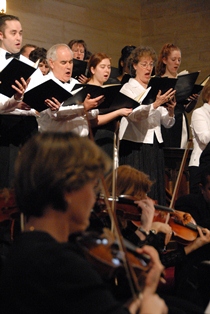 SALISBURY, MD---Christmas comes early to Salisbury University this year, courtesy of the Salisbury Chorale.

The ensemble presents its winter concert, featuring Rutter's Magnificat and Holst's Christmas Day, 7:30 p.m. Tuesday, November 13, in Holloway Hall Auditorium.

The chorale and chamber orchestra, conducted by Dr. William Folger, director of choral studies at SU, are comprised of students, faculty, staff and community members.

The Today Show has called British composer John Rutter "the world's greatest living composer and conductor of choral music." His works have included an original anthem, "This Is the Day Which the Lord Hath Made," written for and performed at the wedding of Prince William and Duchess Catherine Middleton at Westminster Abbey. His Magnificat extends the traditional Canticle of Mary.

Gustav Holst, popular composer of the 19th and 20th centuries, sought to harmonize traditional holiday carols with Christmas Day. Familiar songs include "God Rest Ye, Merry Gentlemen" and "The First Noel," along with "Good Christian Men" and "Come, Ye Lofty, Come, Ye Lowly."

A $10 donation is requested at the door. For more information call 410-543-6386 or visit the SU Web site at www.salisbury.edu.