Thursday, April 27, 2017
Sadler Award Honors Illustrator at SU's Children's and Young Adult Literature Festival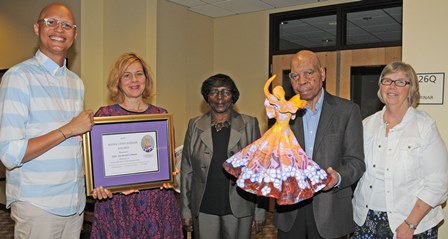 SALISBURY, MD---Artist Eric-Shabazz Larkin received the inaugural Sonia Lynn Sadler Diverse Illustrator Award during Salisbury University's 16th annual Children's and Young Adult Literature Festival.

Sadler was the illustrator of Seeds of Change (2011), a seminal work promoting environmental stewardship for children. While she died of cancer in 2013, her work continues to inspire many illustrators to explore diversity, social justice and the environment.

The award will be given annually in her honor to an illustrator of color who is starting out in children's books and addresses environmental stewardship or other social justice themes in a way that engages young audiences.

It was initiated by Seeds of Change author Jen Cullerton Johnson, who invited Drs. Ernie Bond and Patricia Dean of SU's Teacher Education Department to work with her to launch it. This year's festival was held in Bond's memory; he passed away unexpectedly last fall.

Dean joined Sadler's parents, Wellington and Inez Sadler, in presenting the inaugural honor to Eric-Shabazz Larkin for his work in Farmer Will Allen and the Growing Table. Larkin's debut children's book, by Jacqueline Briggs Martin, was published by Readers to Eaters Books in 2013 and earned critical acclaim.

The book was named a 2014 American Library Association Notable Children's Book and one of "100 titles for Reading and Sharing" by the New York Public Library. It also was named School Library Journal's "Best Book – 2013 Nonfiction" and a Booklist "top 10 Sustainability Title," among other honors.

Farmer Will Allen tells the true story of a former professional basketball player who lived in Belgium before moving to Milwaukee, where he is reinventing urban farming through the "vertical stacking" of crops in confined areas.

Larkin followed his success with a second Readers to Eaters book, A Moose Boosh: a Few Choice Words About Food, which he wrote and illustrated, in 2014.

For more information call 410-543-6030 or visit the SU website at www.salisbury.edu.

---------

Pictured, from left: Eric-Shabazz Larkin, Jen Cullerton Johnson, Inez Sadler, Wellington Sadler and Dr. Patricia Dean.