Friday, September 9, 2016
SU's Smith Earns USM Regents' Staff Award for Excellence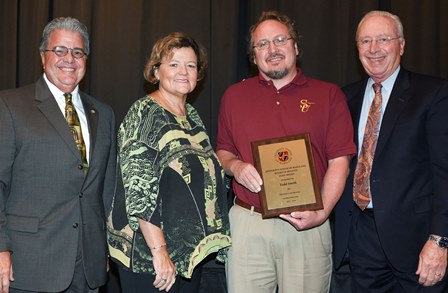 SALISBURY, MD---Web application consultants don't come cheap. For four projects recently completed at Salisbury University, consulting estimates ranged up to $30,000 per job.
By using his expertise to complete these projects in house, SU Web Communications Manager Todd Smith significantly reduced those costs while providing institutional knowledge critical to development and completion.
For this and other services, Smith recently received one of the University System of Maryland's highest honors: the Board of Regents' Staff Award for Excellence. Recognized specifically for Effectiveness and Efficiency in Administrative Transformation Resulting in a Minimum Cost Savings of $10,000, Smith oversees the technical aspects of SU's website and online features, numbering more than 42,000 unique pages. Beyond those duties, he handles a plethora of "tickets" for website maintenance and updates each year. In 2015, the year for which he was nominated, Smith's office handled more than 1,500 such tickets while also training over 250 authorized web content editors and implementing a new content management system.
"I am often asked how Salisbury University manages so many outstanding outcomes," said SU President Janet Dudley-Eshbach. "We have a culture in which staff and faculty are extremely hard working and committed to the success of the institution. Todd Smith is the perfect example of how Salisbury University is effective and efficient, as he has improved systems and operations in ways that result in costs savings and enhancements in services to all students, faculty and staff."
She estimated that Smith has saved the University more than $120,000 annually.
In nominating Smith, his supervisor, Sue Eagle, SU assistant vice president of marketing and public relations, offered four examples of projects Todd completed at a considerable cost savings to the University: a Respiratory Therapy Department daily clinical performance assessment application, an academic program review (APR) database, an entrepreneurship competition interface and an Applied Business Learning Experience (ABLE) internship website.
"Each on-campus client starts their web application project with a general idea, but they do not have a clear direction outlined or project specification details finalized," said Eagle. "They only know that they want to save time, improve work processes and have no funds to hire a consultant or pay for a third-party software solution. … What Todd brings to these projects is experience in development, design ability, usability awareness, search engine optimization (SEO) best practices, development specialty and critical institutional knowledge."
Staff members who worked with Smith on those projects had high praise.
"Todd understood better what I was looking for than I did," said Dr. Robert Joyner, associate dean of SU's Richard A. Henson School of Science and Technology. "Quite honestly, I have never worked with a person who so quickly understood my needs."
"Todd demonstrated great leadership in listening to our needs and designing an APR web-based database that allows us to collect APR reports in a common format," said Dr. Kara Sigert, special assistant to the president for institutional effectiveness and assessment. "His expertise has been instrumental in accomplishing many of the projects undertaken by the Office of University Analysis, Reporting and Assessment."
"We had a vision and explained it to Todd," said Michele Nelson, program management specialist in SU's Franklin P. Perdue School of Business. "He then made it a reality with improvements many times over. … The [entrepreneurship] competition and supporting web-based system were impressive to the point that they supported the securing of a $1 million grant."
"Without Todd's assistance, many aspects of my job would be extremely challenging," said Dr. Tammy Donaway, undergraduate programs coordinator in the Perdue School, who oversees the ABLE initiative. "He is a dedicated member of the campus community, and we are fortunate to have someone with his expertise."
For more information call 410-543-6030 or visit the SU website at www.salisbury.edu.