Thursday, April 27, 2017
SU's Small Co-Authors 'They Wore Blue and Their Hearts Were Loyal'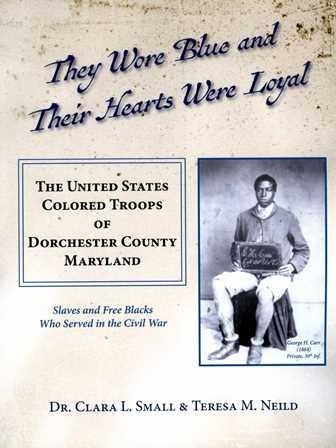 SALISBURY, MD---Private Jacob Cornish was 25 when he joined the Union Army in May 1864. He died of pneumonia just over a year and a half later at a hospital in Point of Rocks, VA. His wife, Aisley, received a widow's pension of $8 per month.

Cornish was just one of hundreds of African Americans from Dorchester County, MD, who fought for the Union during the Civil War.

Dr. Clara Small, professor emerita of history at Salisbury University and interim chair of the University of Maryland Eastern Shore Social Sciences Department, chronicles over 550 such soldiers in the new book They Wore Blue and Their Hearts Were Loyal: the United States Colored Troops of Dorchester County, Maryland, co-authored with Dorchester County Historical Society member Teresa Neild.

"Books detailing the roles of slaves and free blacks during the Civil War are not that numerous, nor that readily available, nor always very credible," said Small. "As a result, the slaves' roles in the war, until quite recently, have been neglected, brushed over or suffered from benign neglect."

The authors noted that by the start of the war, Maryland had more free African Americans than any other state. Over 8,000 slaves and free African Americans from Maryland fought in the Civil War, some 563 came from Dorchester County.

This is not Small's first look at the historical roles African Americans in the area have taken. In 1998, in response to a student's assertion that African Americans' contributions were inconsequential to the U.S. and especially the Eastern Shore, she wrote the 32-page book A Reality Check. It included brief biographies of several historically important African Americans from the Delmarva Peninsula, including Harriet Tubman and Frederick Douglass.

In 2014, she expanded that booklet into the 317-page Compass Points: Profiles and Biographies of African Americans from the Delmarva Peninsula, profiling 56 individuals. Included with figures students may only have read about in history books were contemporary examples such as educator and community leader Mary Gladys Jones, Caldecott Honor-winning illustrator Bryan Collier and former Major League Baseball All-Star Harold Baines. A sequel is planned for release later this year.

Small also has written previously about the role African Americans from the area played in the Civil War. In 2010, she co-authored (with the Rev. David Briddell) Men of Color to Arms! Manumitted Slaves and Free Blacks from the Lower Eastern Shore of Maryland Who Served in the Civil War. That book chronicled the names, ranks, and dates of enlistment, discharge, desertion or death of some 1,300 Lower Shore residents.

For more information call 410-543-6030 or visit the SU website at www.salisbury.edu.