Wednesday, March 6, 2013
SU's Simmons Aids Ocean City During FEMA Training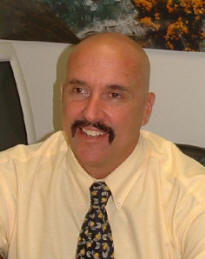 SALISBURY, MD---A hurricane is bearing down on the beach resort town of Ocean City, MD, just as preparations are being made for one of its annual economic pillars, Delmarva Bike Week.

It's still far enough away that it could change course … but a decision needs to be made. Do municipal officials hope for the best, allow the event to go on and welcome hundreds of thousands of motorcyclists to town as scheduled? Or do they cancel the festivities, evacuate the town and risk local businesses losing millions of dollars in potential revenue?

This was the scenario posed to some 75 employees from the Town of Ocean City and several allied agencies during a recent Federal Emergency Management Agency (FEMA) training exercise at the Emergency Management Institute in Emmitsburg, MD.

During the four-day exercise, Dr. Haven Simmons of Salisbury University's Communication Arts Department taught courses in working with traditional and social media during emergency situations. He also served as a mock reporter, delivering updates on the faux storm.

Working with FEMA since 1997, Simmons has provided similar training for a wide range of communities, including Boston, Miami and Las Vegas, and organizations including Dallas-Fort Worth International and Seattle-Tacoma airports, the University of Washington-Seattle and a consortium of universities in Washington, D.C.

Participants in the Ocean City exercise included employees from the Town of Ocean City, as well as Maryland State Police, the U.S. Coast Guard and others. Simmons was impressed by the level of cooperation the agencies demonstrated.

"They obviously were working as a team, which doesn't always happen," he said.

In addition to the storm, FEMA organizers threw other obstacles into the mix, including an overturned truck that shut down the U.S. 50 bridge, temporarily removing one of the town's three established evacuation routes.

"All the other things that stress you out still happen even though the hurricane is coming," Simmons said.

In all, he said the experience was beneficial for everyone involved: "I think it really helped them in terms of advance preparation when they're making a decision about a major, potentially lucrative event versus a hurricane that supposed to make landfall in 72 hours. It's supposed to hit Ocean City, but it could wobble. It could veer in a different direction. A lot of things could happen."

In the end, officials decided to play it safe, canceling Bike Week and evacuating the town two days before the hurricane was projected to make landfall.

"Protecting the population is the primary responsibility of the government," said Joseph Theobald, Ocean City director of emergency services, in a statement announcing the exercise. "We have a responsibility to prepare for, respond to, recover from and mitigate disaster."

Simmons shares that sense of responsibility to help those agencies do just that.

For more information call 410-543-6030 or visit the SU Web site at www.salisbury.edu.