Thursday, December 14, 2017
SU's 'Saunterer' Named Best Honors Print Newsletter in U.S.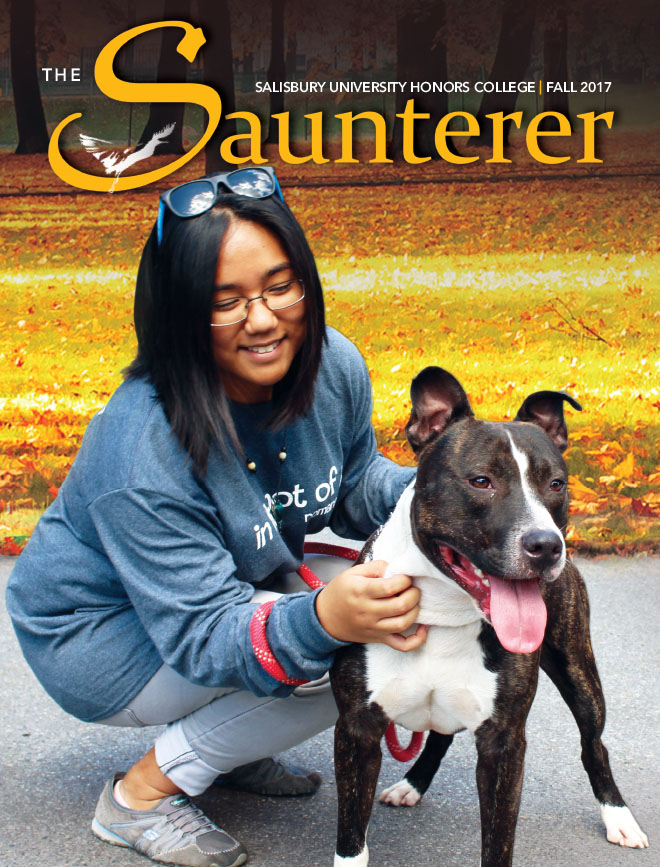 SALISBURY, MD---Five years ago, Salisbury University's Bellavance Honors Program publication, The Saunterer, was a black-and-white, two-sheet newsletter.

Since then, the publication — and the program itself — has undergone a transition. Today, the "newsletter" is a full-color, glossy magazine. Its largest issue, published last fall, announced the program's transformation into the new SU Honors College.

Recently, the National Collegiate Honors Council named that magazine the No. 1 honors print newsletter in the U.S. (sharing the award with Georgia Southern University).

The accolade, following two years of second-place finishes in the competition, was not a surprise for editor Mollie Jewell, who said she knew that the student writers were putting out a first-rate product.

"I know the quality that goes into the magazine," the junior biology major from Galena, MD, said. "We work hard to make each magazine better than the last."

Jewell is the latest in a long line of Saunterer editors, who in recent years have included alumnae Frances Sherlock and Darby Dicks, as well as interim editor Lauren DeLong, a junior biology major from Laurel, MD.

For DeLong, who took over the magazine following the SU Honors College's first year, the expansion from a program to a full-fledged college meant even more good stories to tell.

"We've always had exceptional students [in the program]," she said. "The material is even better now because we have a lot more exceptional students to write about."

Recent examples have included Megan Newcomer, a four-major senior from Mt. Airy, MD, who made a splash in SU's entrepreneurship competitions as part of a team that conceived a new motorcycle helmet safety system; and Katelyn Kirby, a double-major senior from Westminster, MD, who founded the non-profit youth mentoring program Together We Own It.

"I always like to focus on experiences," she said, noting she especially related to a recent interview with Honors College alumna Hannah Ennerfelt, a fellow biology (and psychology) major from Salisbury, who currently is conducting research at a neuroscience laboratory in Sweden as part of a prestigious Fulbright award.

Faculty and staff also have played roles in enhancing the magazine in recent years, Jewell said. Honors College Dean James Buss and faculty director Leanne Wood have encouraged the student writers. New features this semester have included a focus on community service and an introduction to the Faculty Fellows Program, which seeks expanded faculty engagement in the Honors College to diversify its student offerings.

DeLong also credited SU's Publications Office staff, including graphic artist Ana Maldonado and editor Christine Smith, with giving the magazine a professional touch.

"They're great at making things aesthetically pleasing," she said. "We can have the material, but it has to look nice for someone to want to pick it up and read it."

Now that the magazine is No. 1 in the nation, the editors plan to help it maintain the top spot by adding even fresher perspectives, such as a focus on students theses and professional development, and a regular feature on the Honors College members' community volunteer activities.

Jewell also hopes to use information shared through the Honors College's increased social media presence, which has expanded this semester under the supervision of junior social work and political science major Eleanor Brown of Ijamsville, MD, to help grow the magazine even more.

Because the publication is entirely student run, Buss sees The Saunterer not only as a way to share the accomplishments of SU's Honors College with the campus and greater community, but as a unique instructional tool.

"It offers opportunities for majors from business to English to art to become involved," he said. "The head editor for four years (Sherlock) was a business student who gained valuable skills in managing a production staff."

For the dean, the fact that that staff has turned the college's magazine into the No. 1 publication of its kind in the nation is even more of a bonus.

"Needless to say, we're pretty excited," he said.

Recent issues of The Saunterer are available online at http://www.salisbury.edu/honors/saunterer/newsletter.html.

For more information call 410-543-6030 or visit the SU website at www.salibury.edu.