Tuesday, November 19, 2013
SU's Ratti Speaks at Ottawa International Writers Festival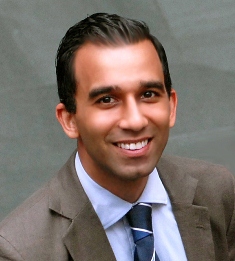 SALISBURY, MD---Religion and politics traditionally are two of the most controversial subjects to tackle in public discussions. Dr. Manav Ratti, assistant professor of English at Salisbury University, recently tackled both through an invitation to speak at the Ottawa International Writers Festival.
One of Canada's most prestigious literary festivals, it is the country's largest independent celebration of literature. Founded in 1997, the festival showcases the cutting-edge ideas of established and emerging writers.
Ratti was invited to speak about his recently published book, The Postsecular Imagination: Postcolonialism, Religion and Literature (Routledge, 2013). In his book, Ratti discusses how writers — including Michael Ondaatje, Salman Rushdie, Shauna Singh Baldwin and Amitav Ghosh — risk negotiating between religion and politics, using literature to experiment with the paradoxes of a non-secular secularism and a non-religious religion.
Ratti was interviewed by Carleton University's Dr. Richard Mann, associate professor of religious studies. Ratti said his and Mann's conversation became a free-wheeling discussion with the audience, lasting about an hour.
"The audience was incredible," said Ratti. "They inspired me to give even more and think through my work in fresh new ways."
The founding director of the festival, Neil Wilson, praised Ratti's contributions: "His presentation to a full house of inquisitive minds was one of the highlights of the past number of years. The Postsecular Imagination is an important book and it has come to us at a time of great need. It deserves a huge audience and we cannot say enough about Manav Ratti's charm and poise in front of an audience."
Mann added, "He engages complex ideas with finesse and clarity, and is himself an engaging, open, and lively speaker. It was a pleasure working with him."
The fall 2013 installment of the festival featured writers and thinkers from Canada and the world, including Margaret Atwood, Nobel laureate Jody Williams, Ian Rankin, former leader of Canada's Liberal party and Harvard professor Michael Ignatieff, former prime minister of Canada Joe Clark, and O. J. Simpson trial attorney Marcia Clark.
Previous speakers have included Anne Enright, Amitav Ghosh, Michael Ondaatje, Steven Pinker, John Raulston Saul, and Colm Toibin.
Speaking in Ottawa was just one of the stops for Ratti, whose book has sold out. He has also spoken at New York University, the University of Toronto, Carleton University, the University of the West Indies at St. Lucia, and the University of Lisbon.
Ratti also recently spoke about his book at the inaugural offering of Ignite Salisbury, TED-style talks designed to inspire the city community.
For more information call 410-543-6030 or visit the SU website at www.salisbury.edu and the book's website at www.manavratti.com.