Monday, January 8, 2018
SU's Raley Earns ABE Theatre Award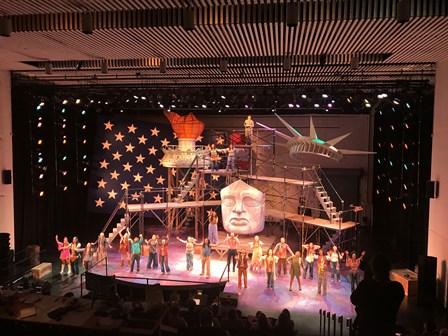 SALISBURY, MD---The Lehigh Valley Press of Bethlehem, PA, recently announced John Raley, scenic designer in Salisbury University's Music, Theatre and Dance Department, as the recipient of an ABE Award for Scenic Design.

Raley earned the recognition for his work in the Muhlenberg Summer Music Theatre's production of Hair.

For the musical, Raley designed "a four-level scaffold festooned with elements of an American flag and the Statue of Liberty, except the crown, torch and head [were] disconnected, much like the era in which the musical takes place," said Valley Press theatre critic Paul Willistein, who selected the publication's 12th annual ABE Award winners.

("ABE" stands for Allentown-Bethlehem-Easton, the region the paper covers.)

Hair, Galt MacDermot, James Rado and Jerome Ragni's celebration of 1960s counterculture, was staged at Allentown's Muhlenberg College last June and July in celebration of the popular rock musical's 50th anniversary.

Directed by James Peck, with musical direction by Ed Bara, additional designers included Samuel Antonio Reyes (choreography), Lex Gurst (costumes), Curtis Dretsch (lighting) and Phil Ingle (sound).

For more information call 410-543-6030 or visit the SU website at www.salisbury.edu.