Friday, November 22, 2013
SU's Pi Gamma Mu Chapter Earns Roll of Distinction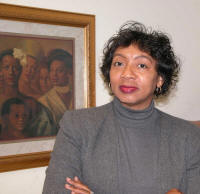 SALISBURY, MD---For Dr. Clara Small, founder of Salisbury University's Maryland Gamma chapter of the Pi Gamma Mu international honor society in the social sciences, the organization represents three decades of memories.
Small, who will end her 30-year association with the SU chapter when she retires in December, has concluded her term on a high note: Maryland Gamma recently was awarded the organization's highest international honor, the Roll of Distinction.
Based on a submission of campus activities, the prestigious award went to only seven chapters for the 2012-13 academic year during Pi Gamma Mu's 2013 annual meeting. According to Small, it was the chapter's sixth time receiving the award in 30 years. Maryland Gamma also received the organization's second-highest accolade, the Roll of Honor, at least six times, she said.
In 1982, only two members of the SU community were Pi Gamma Mu members: Small and Dr. Charles Clark, then chair of the History Department. Clark charged Small with founding an SU chapter. Within a year, Maryland Gamma was formed. Its first inductee was then-SU President Thomas Bellavance.
"We've had some really good students and really good presidents over the years," said Small. "We've done a lot of things."
In the past three decades, the chapter has conducted flood and hurricane relief efforts and food bank donation drives; participated in holiday activities for the less fortunate; and traveled to Atlanta, Williamsburg, VA, and Washington, D.C. One of Small's favorite activities was a "car bash" fundraiser – students and others were invited to make a donation to Pi Gamma Mu for the opportunity to take a swing at a car with a sledgehammer.
Beyond the region, Pi Gamma Mu students have attended the organization's annual conventions, and nine have won scholarships from the international organization, a feat Small notes is especially impressive considering only 10 are given each year.
Since 1991, Small also has served on Pi Gamma Mu's international board of trustees, currently as second vice president. Her term ends in 2014.
During Homecoming this year, Small and co-advisor Dr. Ray Thompson helped lead a 30th anniversary reunion for Maryland Gamma, bringing back to campus members from the past three decades. Though she is not teaching this semester, she delayed her retirement, in part, to participate in the event.
"That's my contribution," she said. "It always has been. It's never been about me. It's about the students."
For more information call 410-543-6030 or visit the SU website at www.salisbury.edu.