Monday, April 28, 2014
SU's Nieves Releases Debut Poetry Collection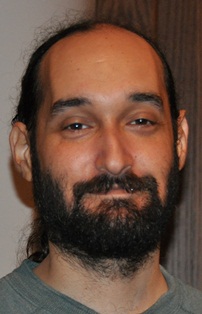 SALISBURY, MD---"Morning/is the cold, rigid face of a coin, shining/in spite of all those dirty thumbs."

So proclaims Dr. John A. Nieves, assistant professor of English at Salisbury University, in his debut poetry collection Curio, winner of the 13th annual Elixir Press Poetry Award.

According to Nieves, the title of the collection comes from his desire to create "a curio cabinet of 'whens' and 'wheres' and some of the things that make them distinctive."

The "curios" contained within have drawn the attention and critical praise of the poetry community.

"To enter the world of Curio … is to enter a world shaped by a curious and ravenous intellect," said award-winning poet and Elixer Press judge Jane Satterfield.

"It's a space of copious gathering—one that shares in the rich tradition of the cabinet of wonders where collections of memory, history and language are pondered for their exquisite, revelationary nature, never losing their luster, but invoking instead renewable facets of awe and inspiration."

Author Alexandra Teague agreed, calling the book "stunning" and adding, "Part scientist, part shaman, Nieves is unswervingly intelligent and deftly imaginative at knowing what to ask of the world."

A 2012 Pushcart Prize nominee, Nieves has published in journals including Beloit Poetry Journal, Southern Review, Crazyhorse, Hayden's Ferry Review, Ninth Letter and Cincinnati Review, among others. He won the 2011 Indiana Review Poetry Prize.

For more information call 410-543-6030 or visit the SU website at www.salisbury.edu.