Thursday, October 11, 2012
SU's Morrison Examines Dickens in 'Adventures in Ideas' Seminar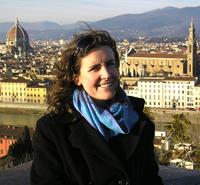 SALISBURY, MD---From the orphans of Oliver Twist and David Copperfield to the ghosts of A Christmas Carol, 19th century author Charles Dickens cast a spell over readers that continues today.

Dr. Lucy Morrison of Salisbury University's English Department celebrates the 200th anniversary of his birth year with the presentation "Delighting in Dickens." This inaugural installment of SU's 2012-13 Adventures in Ideas Humanities Series is 10 a.m.-3 p.m. Saturday, October 13, in Teacher Education and Technology Center Room 179.

A native of Great Britain, Morrison specializes in British Romanticism. She immerses her students in the books she teaches. For example, those taking her "Jane Austen's England" class, which explores 19th century England through the novels of Austen, have found themselves learning and performing English Country dances of the era. The result: Students more easily understand the limits society placed on people in Austen's world and the freedom that dancing allowed.

Morrison also has delved into the backgrounds of other notable British writers. She is the co-editor of the 2010 book Mary Shelley: Her Circle and Her Contemporaries. In that book, she rejects the notion that Shelley, best known for Frankenstein, was merely a "one-book author," with an article addressing music in The Last Man (1826).

Morrison also taught Victorian literature and a Charles Dickens graduate class. Her most recent books are the four-volume set of Post-Napoleonic Travel Narratives By Women (2011).

Sponsored by the Charles R. and Martha N. Fulton School of Liberal Arts and the Whaley Family Foundation, admission to the seminar is $30, which includes coffee, snacks and lunch. Advance registration is required.

Upcoming presentations in the series include "Stayin' Alive: Surviving the 1970s" with Dr. Dean Kotlowski of the History Department on Saturday, February 2, and "Camelot's Hope: Legend and Statecraft From Arthur to Kennedy" with Dr. Kirsten Walton, also of the History Department, on Saturday, March 2.

To register, call Donna Carey at 410-543-6450 or e-mail dmcarey@salisbury.edu. For more information visit the SU Web site at www.salisbury.edu.