Thursday, February 17, 2011
SU's Moore Earns $20,000 Prelinger Award for Research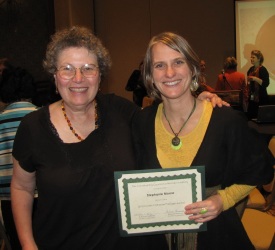 SALISBURY, MD---Dr. Stephanie Moore's college roommate was the descendent of Japanese Peruvians who were deported to U.S. internment camps during World War II.

The two students' connection sparked an interest that shaped Moore's senior thesis and dissertation, and now over two decades later, continues to inspire her community work, research and teaching at Salisbury University.

Recently, the Coordinating Council for Women in History awarded Moore its $20,000 Catherine Prelinger Award to turn her dissertation on "The Japanese in Multiracial Peru, 1899-1942" into a manuscript. She will make her work accessible to Nikkei communities of Japanese emigrants in the U.S. and Peru, in part through presentations in Los Angeles, San Francisco, Chicago and Lima later this year.

"The project also allows me to develop the gender piece of my research," said Moore, whose work is one of the first studies to analyze how Latin American perceptions of Japanese women influenced policies that culminated in the deportation of some 2,200 Japanese Latin Americans during the war.

Specifically, she will examine the Latin American eugenics movement, practices aimed at managing the population's racial composition. She will explore how the movement resonated in Peruvian culture, contributed to a hyperfocus on Japanese women's sexuality and reproduction, and translated into restrictive immigration policies.

"The study fills a void in discussions of the history of Asian women in Latin America and illustrates the centrality of sexuality and race to 20th century immigration policies," Moore said.

The Prelinger Award, typically for nontraditional scholars, was presented to Moore at the American Historical Association's annual meeting. Before grad school, she spent years volunteering with Japanese Peruvian oral history projects and has relied heavily on community-based research. She now serves as a historical consultant to groups seeking a congressional commission to investigate the wartime relocation and internment of Japanese Latin Americans.

Moore earned her Ph.D. from the University of California, San Diego. In addition to teaching courses on world civilizations, including Latin America, for SU's departments of history and modern languages, she also coordinates Bienvenidos a Delmarva, a network of immigrant service providers, which is an initiative of the campus' Business Economic and Community Outreach Network (BEACON).

For more information, call 410-543-6030 or visit the SU Web site at www.salisbury.edu.