Wednesday, September 30, 2015
SU's Maddux Earns USM Regents Staff Award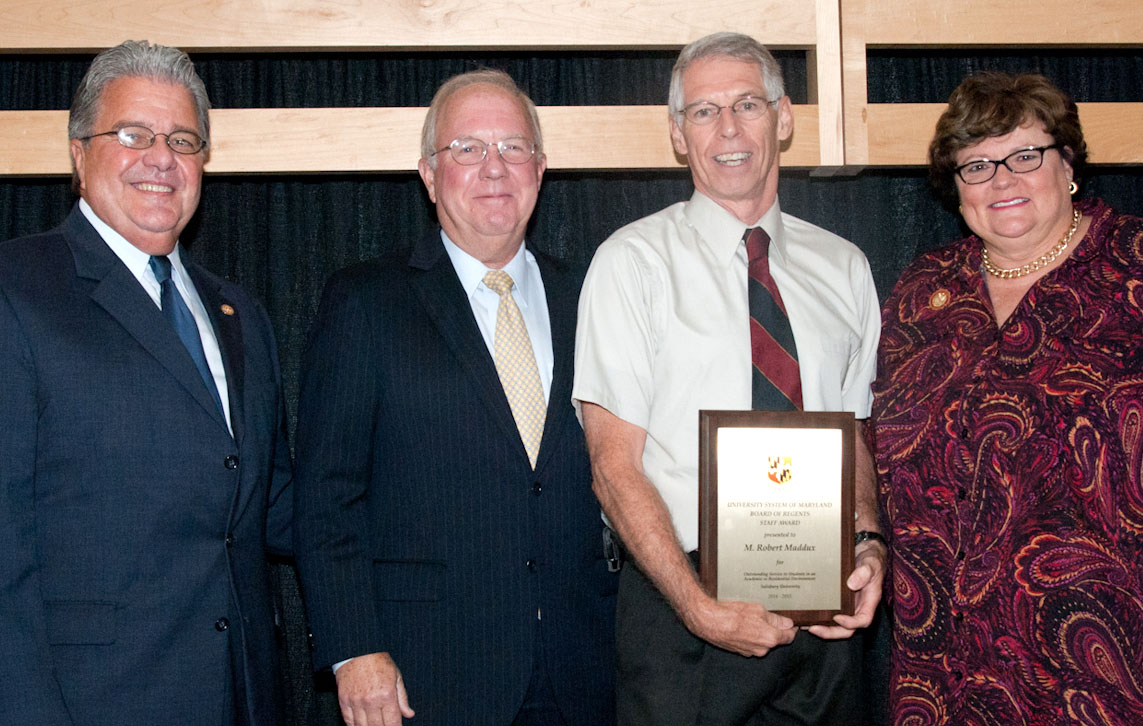 From left: University System of Maryland Chancellor Robert Caret, University System of Maryland Board of Regents Chair James Shea, Bob Maddux and Salisbury University President Janet Dudley-Eshbach.
SALISBURY, MD---Facilities maintenance at Salisbury University often is done behind the scenes and out of sight of the general campus population. If not done properly, it can have immediate campuswide implications.
When a maintenance emergency arises, faculty and staff depend on Bob Maddux.
For his efforts not only keeping the campus' infrastructure running smoothly, but interacting with students through organizations such as the SU Outdoor Club, he recently received one of the University System of Maryland's highest honors: the Board of Regents Staff Award for Excellence.
Recognized specifically for Outstanding Service to students in an Academic or Residential Environment, Maddux is instrumental not only in supervising maintenance activities for the campus' 11 residence halls, as well as the Guerrieri University Center and Commons, but in welcoming new students to the University, according to SU President Janet Dudley-Eshbach.
He co-directs the New Student Orientation program "Bike, Beach and Beyond" and often is a rider in the University's annual Sea Gull Century, a 100-mile bicycling event that raises funds for scholarships and other causes.
"Despite his heavy and unpredictable workload, he always is armed with a ready smile and positive, can-do attitude," said Dudley-Eshbach. "During our last two strategic planning cycles, the consensus across campus was that SU's major strength was our 'small school feel,' characterized by the personal attention and support given to each of our students. Bob Maddux is a prime example of how we achieve that small school feel and earn our reputation as A Maryland University of National Distinction."
Maddux has been a member of the SU community for more than three decades. He has served in his current position as multi-trades supervisor since 1997.
"Bob knows that when people need him, they need all of his attention," said Dave Gutoskey, SU director of housing and residence life, in a letter of support. "At any given time, he is juggling multiple projects in every area. I have always admired how he enters a new situation and is able to make you feel that your issue is his No. 1 priority."
Eric Berkheimer, associate vice president of facilities and capital management, agreed: "Due to the need to complete work between class sessions, Mr. Maddux often can be found on campus over breaks and at any hour of the day to ensure that facilities are ready for the students, faculty and staff. … "But it is not just that he manages to make all of these things happen without incident; it is the fact that he does it with a constant smile on his face and a warm greeting for all."
Dr. Lawanda Dockins-Mills, associate dean of students, added: "Mr. Maddux takes personal responsibility to make sure that our students' needs are met and stays on top of things through their completion. He consistently goes above and beyond his job requirements, demonstrates daily his commitment to the University and its success, and is a real asset to SU."
For more information call 410-543-6030 or visit the SU website at www.salisbury.edu.