Thursday, February 16, 2017
SU's Johnson Featured on Linklater 'Before Trilogy' DVD Set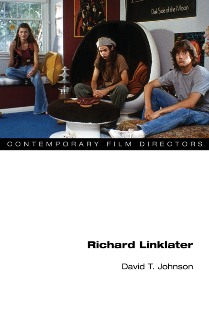 SALISBURY, MD---For nearly two decades, writer-director Richard Linklater explored the romance between characters Celine and Jesse in three movies: Before Sunrise (1995), Before Sunset (2004) and Before Midnight (2013).

During that same time, Dr. David Johnson, Salisbury University associate professor of English, followed Linklater. His 2012 book, Richard Linklater, part of the University of Illinois Press' Contemporary Film Directors series, examined the filmmaker and his works from a scholarly point of view.

This month, Johnson will have the opportunity to reach a whole new audience as part of an "extra" featurette in the new DVD box set The Before Trilogy. Part of the "Director-Approved Edition," Johnson's presentation consists of a conversation about the director with Dr. Rob Stone of the University of Birmingham, author of The Cinema of Richard Linklater: Walk, Don't Run.

Linklater has been a focus of Johnson's for many years. He has spent a considerable amount of time studying the director. Research for his book included lengthy, insightful phone calls to Linklater at his Austin, TX-based production company, Detour.



That Before series follows two lovers over nine-year increments. They fall in love then are separated during the first film, Before Sunrise, then run into each other nine years later in its sequel, Before Sunset.

Because the movies were filmed nine years apart, the actors (Ethan Hawke and Julie Delpy, also co-screenwriters for the project) aged organically, without the help of special effects or makeup, giving the series an almost documentary-like appeal.

Beyond the Before films, Linklater is known for his independent movies, such as Fast Food Nation and Me and Orson Welles, as well as his commercial successes, including Dazed and Confused, School of Rock, Bad News Bears and Academy Award Best Picture nominee Boyhood.

In addition to teaching at SU, Johnson also is the former co-editor of the University's Literature/Film Quarterly, a popular international journal devoted to the scholarly study of literary film adaptations.

For more information call 410-543-6030 or visit the SU website at www.salisbury.edu.