Friday, May 12, 2017
SU's Horton Earns Prestigious McHarg Award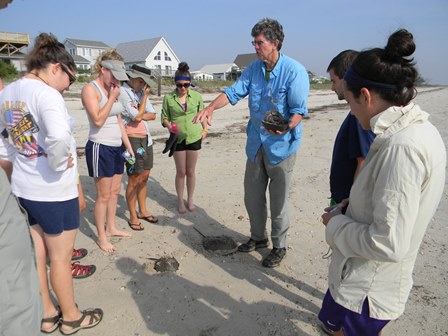 SALISBURY, MD---The Valleys Planning Council (VPC) of Towson, MD, recently presented its prestigious McHarg Award to Salisbury University professor of the practice and noted environmental writer Tom Horton.

Horton teaches in SU's Environmental Studies Department, specializing in Chesapeake Bay politics, cultures, science, nature writing, journalism and experiential education. He recently paddled his kayak 550 miles around the Delmarva Peninsula and has co-taught a summer kayaking and camping course, "Exploring Delmarva: A Water's-Eye View," at SU.

An Eastern Shore native, Horton covered the environment for the Baltimore Sun for 35 years. He also has written nine books about the Chesapeake Bay and its tributaries. Additional honors include the John Burroughs Award for nature writing, the Sierra Club's prestigious David Brower Award, and accolades from the Chesapeake Bay Foundation and Audubon Society. In 2015, Maryland Governor Martin O'Malley proclaimed him an "Admiral of the Chesapeake," one of the state's highest honorary titles.

"His insights into local land use and environmental issues, and his skill in writing about them, have made a big difference in the outcome of many proposed projects and policies in Maryland," said Teresa Moore, executive director of the Valleys Planning Council. "For decades, he has helped inform environmentalists and the general public about the importance of healthy fisheries, streams, and watersheds, and how poorly managed growth can have severe impacts on our ecological systems."

Last year, with frequent collaborator David Harp and filmmaker Sandy Cannon-Brown, Horton released the film Beautiful Swimmers Revisited. The acclaimed documentary tracked the changes that have taken place in the Chesapeake since the publication of William Warner's 1976 Pulitzer Prize-winning national bestseller, Beautiful Swimmers: Watermen, Crabs and the Chesapeake Bay.

In addition to writing about the Bay as a contributor to the monthly Bay Journal and beyond, Horton is a freelance nature writer, working for National Geographic, Rolling Stone, the New York Times Magazine, Chesapeake Bay Magazine and others. His assignments have ranged from famine in Africa to the Amazon Rainforest, oil spills in Alaska and coral reefs in Australia.



Presented annually, the McHarg Award honors those who exemplify the goals and mission of The Valleys Planning Council by his or her actions. The award memorializes the spirit and legacy of Ian L. McHarg, a Scottish landscape architect and a renowned writer on regional planning using natural systems. He received the National Medal of the Arts from President George Bush in 1990 and won the Japan Prize for city planning in April 2000. McHarg died in 2001.

Horton noted that McHarg's 1969 book Design with Nature, which pioneered the concept of ecological planning, was among his collection. Horton referenced McHarg's work in the first edition of his book Turning the Tide.

Created in 1962, the VPC conserves open space in Baltimore County; protects agricultural, natural, historic and scenic resources; and works with stakeholders to promote a balanced and rational use of land for the benefit of present and future generations. For more information visit www.theVPC.org.

For more information about Horton and Salisbury University call 410-543-6030 or visit the SU website at www.salisbury.edu.