Monday, June 22, 2015
SU's Goyens Helps Tell Story of Anarchism Through the Eyes of Helene Minkin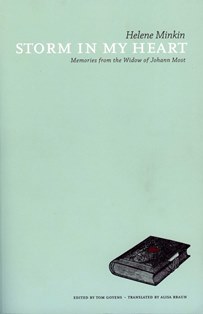 SALISBURY, MD---Most scholars of anarchism are familiar with the work of Johann Most, credited with popularizing the concept of "propaganda of the deed" by advocating publicity of violent retaliation against counter-revolutionaries.
Dr. Tom Goyens of Salisbury University's History Department, however, was not satisfied only knowing about the works of the 19th-century German-American firebrand and newspaper editor. He wanted to know the man himself.
Enter Helene Minkin.
While conducting research for a biography on Most, Goyens was surprised to find only a handful of recollections by those who knew Most closely. He turned his attention to Most's widow, Minkin, who knew the anarchist for 18 years as a friend, partner and parent.
Minkin's memoirs were serialized in the Yiddish daily newspaper Forverts in 1932, providing an intimate — if not always flattering — account of the anarchist movement in the U.S.
"It's just a completely different look" at Most and the movement, said Goyens, noting that Minkin's account was "sort of a rebuttal" to a memoir written by her former roommate, noted anarchist Emma Goldman. "It's a unique perspective."
With a grant from SU's Charles R. and Martha N. Fulton School of Liberal Arts, Goyens saw an opportunity to make this historical information more readily available to current and future scholars.
The resulting book, Storm in My Heart: Memories from the Widow of Johann Most, was released by AK Press this year. Edited by Goyens and translated by Dr. Alisa Braun, academic director of the Institute for Jewish Learning at New York's Jewish Theological Seminar, the first English translation from the original Yiddish version has earned praise from authors and academics alike.
"Expertly translated, Storm in My Heart is indispensable for anybody interested in the history of the American left," said Tony Michaels, author of A Fire in Their Hearts, Yiddish Socialists in New York.
Barry Pateman, former associate editor of the Emma Goldman papers, called the memoirs "historically important," adding that they "have been sensitively and ably edited by … Goyens."
Kenyon Zimmer, author of Immigrants Against the State: Yiddish and Italian Anarchism in America, noted that "Scholars and activists alike will learn much from this deeply personal account of a radical life."
Beyond their role in anarchist studies, Minkin's memoirs also paint a picture of Europeans and others coming to the U.S. and attempting to assimilate in the late 1800s, Goyens said.
"They can be useful for immigration historians, as well," he said.
In addition to Storm in My Heart, Goyens is the author of Beer and Revolution: The German Anarchist Movement in New York City, 1880-1919, and is continuing his research on Most.
For more information call 410-543-6030 or visit the SU website at www.salisbury.edu.