Wednesday, February 13, 2013
SU's English Hosts Performing Arts Fundraiser Saturday, February 16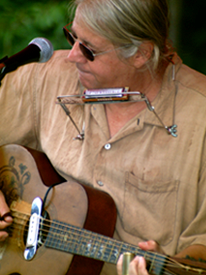 SALISBURY, MD---"The blues is the roots; everything else is the fruits." – Willie Dixon

Blues musician and Salisbury University Department of Music faculty Chris English presents his fifth annual performing arts fundraiser 7 p.m. Saturday, February 16, in the Black Box Theatre of Fulton Hall.

English and his band bring Delta-style blues to Salisbury. Special guests include Ted Nichols with SU's World Percussion Ensemble, Nancy Mitchell reading blues poetry.

To create this American form of music, English uses vintage guitars from the 1930s to replicate the sound and feeling of the blues he has studied and loves. He puts that sound to good use in his class "Blues: the Roots of Rock and Roll," which he created and teaches at SU.

Tickets are $12, benefiting the Department of Music Performing Arts Fund. Checks should be made payable to the Salisbury University Foundation, Inc., with "Performing Arts Fund" in the memo line.

For more information call 410-543-6385 or visit the SU Web site at www.salisbury.edu.