Thursday, September 29, 2016
SU's Dr. Victoria Hutchinson featured in FringeArts Festival in Philadelphia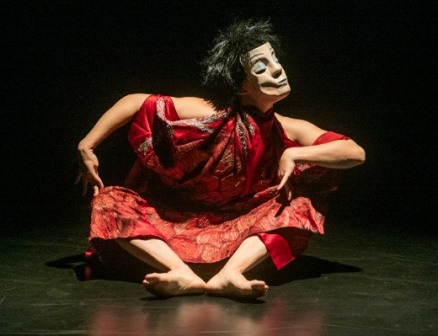 SALISBURY, MD---Dr. Victoria Hutchinson's acclaimed reconstruction of Mary Wigman's 1926 "Hexentanz" ("Witch Dance") recently appeared at the FringeArts Festival in Philadelphia.

Dancefusion, a modern dance repertory company, featured the work in its program Making Dance, accompanied by Travis Goffredo, senior percussion studies major at Temple University's Boyer College of Music.

Hutchinson is a faculty member of Salisbury University's Music, Theatre and Dance Department.

Thinkingdance.net reviewer Lisa Kraus noted, "To see a restaging of a work like Mary Wigman's "Hexentanz" provides a jolting reminder of the power and intensity of early modern dance. To see it full length, in living color (with red costume!) danced convincingly by Jennifer Yackel, is a rare thrill."

Yackel, a Salisbury native and Philadelphia-based dance artist, performed "Hexentanz" in a 2015 SU Dance Company program. Kraus's articles and essays have been published in Dance Magazine, the Philadelphia Inquirer and Dance Advance Archive, among other publications.

For more information call 410-543-6030 or visit the SU website at www.salisbury.edu.