Thursday, February 4, 2016
SU's Dr. Adam Bronson Presents 'A New Crisis Zone? Borders, Politics and Artificial Islands in the South China Sea', February 25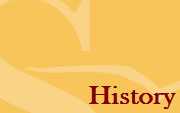 SALISBURY, MD---Why has the South China Sea recently seen a military buildup and "artificial island-building spree"?

Dr. Adam Bronson, Salisbury University assistant professor of history, explores that question and more during the presentation "A New Crisis Zone? Borders, Politics and Artificial Islands in the South China Sea."

Part of the SU History Department's "Global Connections, Global Engagement" forum series, his talk is 7 p.m. Thursday, February 25, in Teacher Education and Technology Center Room 153.

Bronson highlights connections between the increasingly volatile situation in this region of the world, and changes in the domestic political situation in China, Japan and the U.S.

At SU, Bronson teaches courses in Chinese civilizations, world civilizations and modern China. His publications include the book One Hundred Million Philosophers: Science of Thought and the Culture of Democracy in Postwar Japan.

Sponsored by the History Department, admission to his talk is free and the public is invited. For more information call 410-543-6030 or visit the SU website at www.salisbury.edu.