Wednesday, July 5, 2017
SU's Cawthern and Salisbury Middle School's Hansen Team Up For 'School of Rock'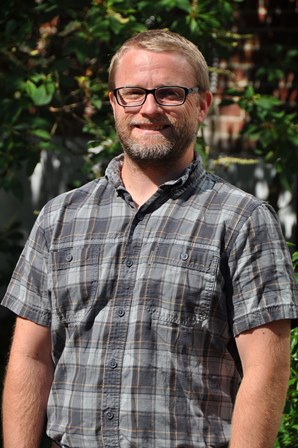 SALISBURY, MD---Simon and Garfunkel, Hall and Oates, Sonny and Cher … and Cawthern and Hansen? Three famous rock duos … and one about to make a name for themselves on an adventure halfway around the world.

Salisbury University's Dr. Thomas Cawthern, an assistant professor in the Geography and Geosciences Department, is teaming up with Salisbury Middle School science teacher David Hansen in a highly selective program called the "School of Rock," which is co-sponsored by the Integrated Ocean Discovery Program (IODP) and the U.S. Science Support Program and pairs early career scientists with nearby secondary-school educators.

The budding partnership will be beneficial for both. Hansen foresees it as "a connection with SU that I can use with my students. If I need things from (Cawthern), he can provide it, and vice versa if he needs things from us. Being local like we are, that's definitely going to be helpful to us."

Before Cawthern and Hansen can act locally, they will have to think globally.

They will travel to the Philippines' Subic Bay, where they will board the research vessel JOIDES Resolution, a 469-foot, 39-year-old former oil-exploration ship that was repurposed for scientific use in 1985 and is equipped with a drilling rig that can reach depths about six miles below the ocean's surface. And they might need every inch of the piping, for, when they set sail on July 10, they will traverse near the deepest parts of the Pacific that inconveniently doubles as a hotbed of typhonic activity. In anticipation, Cawthern, who has never participated in an ocean drilling expedition, has been checking wave heights online.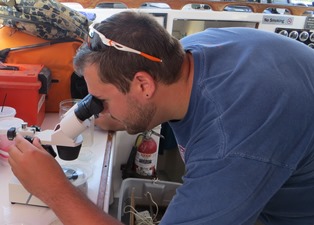 "I don't know if I'll get seasick," he said. As for Hansen, "My fingers are crossed."

They'll soon find out if a boatload of Dramamine is in order, and if all goes well, the JOIDES Resolution (www.joidesresolution.org) will reach its terminus port, Townsville, Queensland, Australia, on July 27.

During the 3,000-mile-plus voyage, Cawthern and Hansen, along with five other pairs of American scientists/educators and an international cast of crew and personnel, will learn about the equipment spread across more than 12,000 square feet of laboratory space, collect marine sediment cores, and analyze sediments and rocks retrieved from other global locations. This ties in nicely with Cawthern's doctoral research expertise, which includes studying volcanic ashes, marine strata and ocean sediments in the Indian Ocean's Bay of Bengal and Andaman Sea. The knowledge to be acquired has Hansen excited, too.

"This is a once-in-a-lifetime opportunity," Hansen said. "Going around the world, crossing the equator, these are firsts for me, and I hope to bring as much passion as possible." When he returns home, he hopes the experience "better enhances the lessons I have with my students."

The science that will be done on the ship is only part of the mission. Of equal importance, according to Cawthern, will be making live ship-to-shore telecasts, via the IODP's website (www.iodp.org), to local teachers and students, allowing them to ask questions and engage with the duo. The goal is to foster interest in STEM programs, and geoscience in particular, and how they relate to the Delmarva coastline.

"(I want) to show students exactly how classroom content can be transferred into practical skills in the field," Cawthern said.

On July 13 and 20, they will link up with educators participating in a Mathematics and Science Partnership program led by SU's Dr. Brent Zaprowski, a professor in the Geography and Geosciences Department, and Dr. Eric Liebgold, an assistant professor in the Biological Sciences Department. In addition, Cawthern and Hansen will be talking with Dr. Mara Chen's Introduction to Physical Geology class during SU's Summer Session II. Chen also is a professor in the Geography and Geosciences Department.

Because of the 12- to 14-hour time difference, the live interactions most likely will involve late nights and early mornings for the duo. This, on top of 12-hour work shifts, will leave little time for recreation in the ship's gym, movie room or library, but maybe just enough time to talk with the ship's cooks. Ever inquisitive, Cawthern wants to know all the "weird stuff" they've encountered on their voyages.

Cawthern and Hansen will have some stories, too, plus photos, when they return to Salisbury. And even though the journey will be over, it doesn't mean that the "School of Rock" will stop, for they hope to hit the road with their act, which, after spending 17 days at sea in close quarters (sharing a room with bunkbeds), should be well honed.

"I'm encouraged to work with our partners in local school districts throughout the year," Cawthern said, and he can't wait to use and share the core samples and data sets from the trip. In addition to drilling the information into young minds, the trick, after collaborating with other educators in his field, is to "construct innovative ways to deliver content to our students," he said.

Like Simon and Garfunkel, the world could see a "breakup" of Cawthern and Hansen, for the "School of Rock" might be a stepping stone for Cawthern. A solo career, so to speak. He can foresee being a leader on "full-blown expeditions" of three months in duration — all thanks to the excursion ahead.

"It's a tremendous opportunity to train as an early career scientist," he said.

For more information, call 410-543-6030 or visit the SU website at www.salisbury.edu.