Wednesday, April 29, 2015
SU's Business Living Learning Students Visit Downtown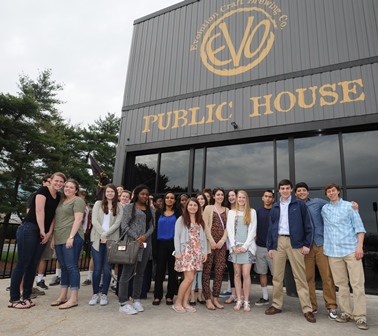 SALISBURY, MD---Students from Salisbury University's Business Living Learning communities recently visited downtown Salisbury to learn about the opportunities available there.

More than 50 students toured four downtown businesses — Merrill Lynch Wealth Management, Market Street Inn, Headquarters Live and the Wicomico County State's Attorney's Office.

During their tour, students received tips on jobs and necessary skills from area business leaders including Chris Hayes (Merrill Lynch), Rob Mulford (Market Street Inn), Brad Gillis and Joey Gilkerson (Headquarters Live), Wicomico County State's Attorney Matt Maciarello and Wayne Lowe (Wicomico County Circuit Court).

At the conclusion of the tour, they enjoyed dinner and a debriefing at the Evolution Craft Brewery Public House (pictured).

SU's Living Learning communities allow freshmen with similar interests to immerse themselves in their fields of study and establish connections by living together in a designated residence hall while taking a common course during each of their first two semesters. These communities also offer out-of-classroom enrichment experiences, such as the downtown tour.

For more information call 410-543-6030 or visit the SU website at www.salisbury.edu.